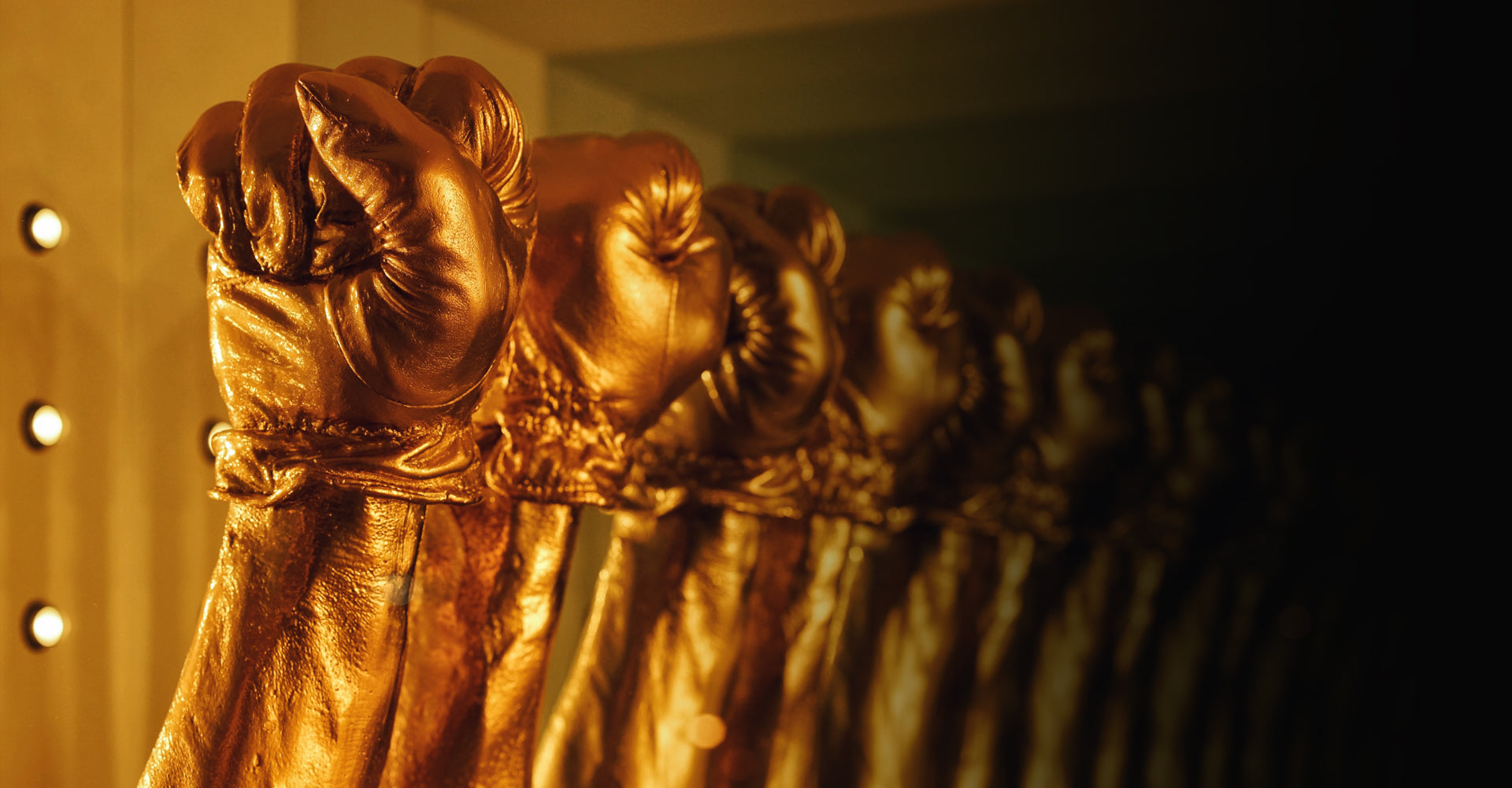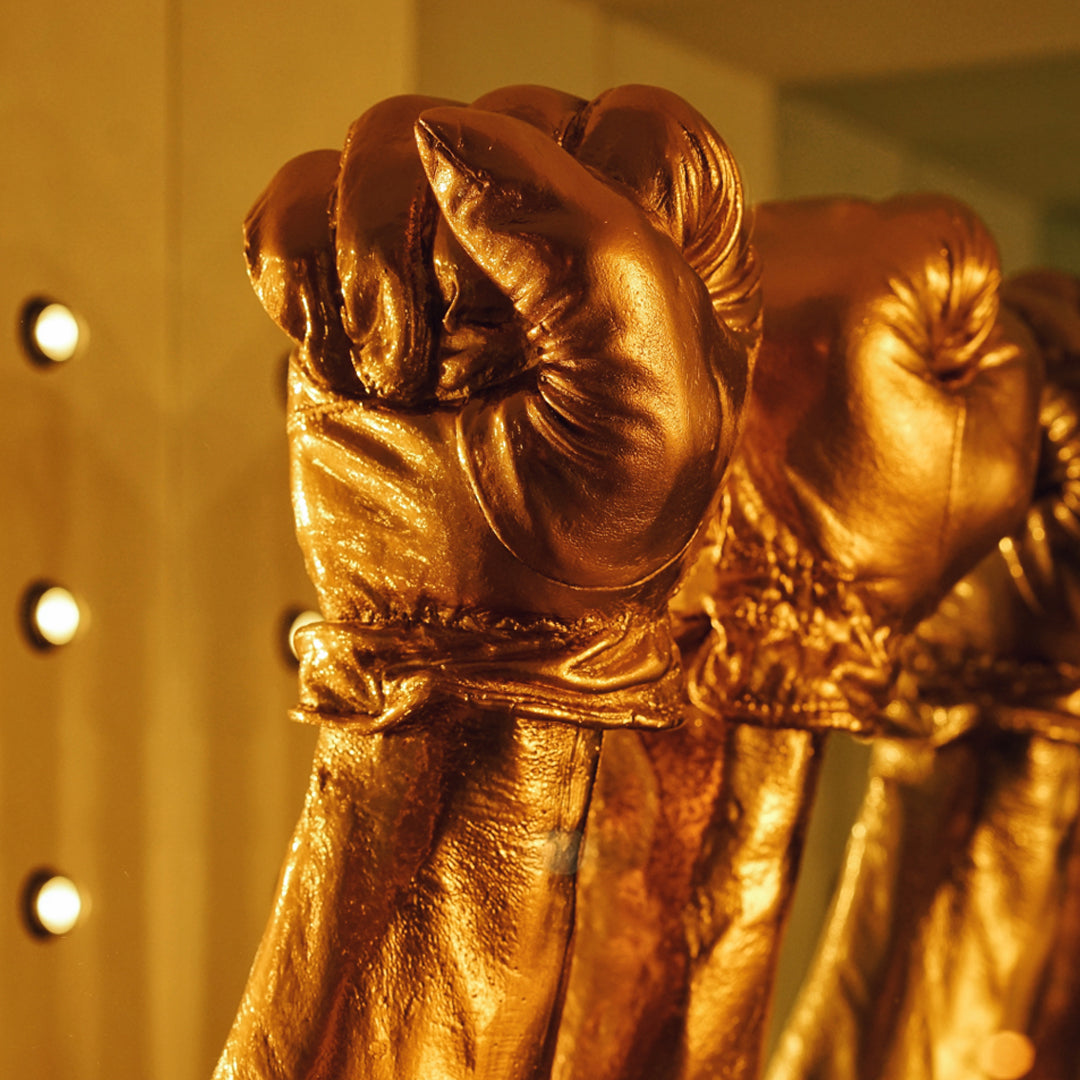 Bridge (Victory)
by Glenn Kaino
The imposing and muscular raised fist of 1968 Olympic Gold Medalist Tommie Smith confronts the viewer with this symbolic gesture and brings to bare both the struggles of the past and the perpetual need for resistance ahead.
Learn More

›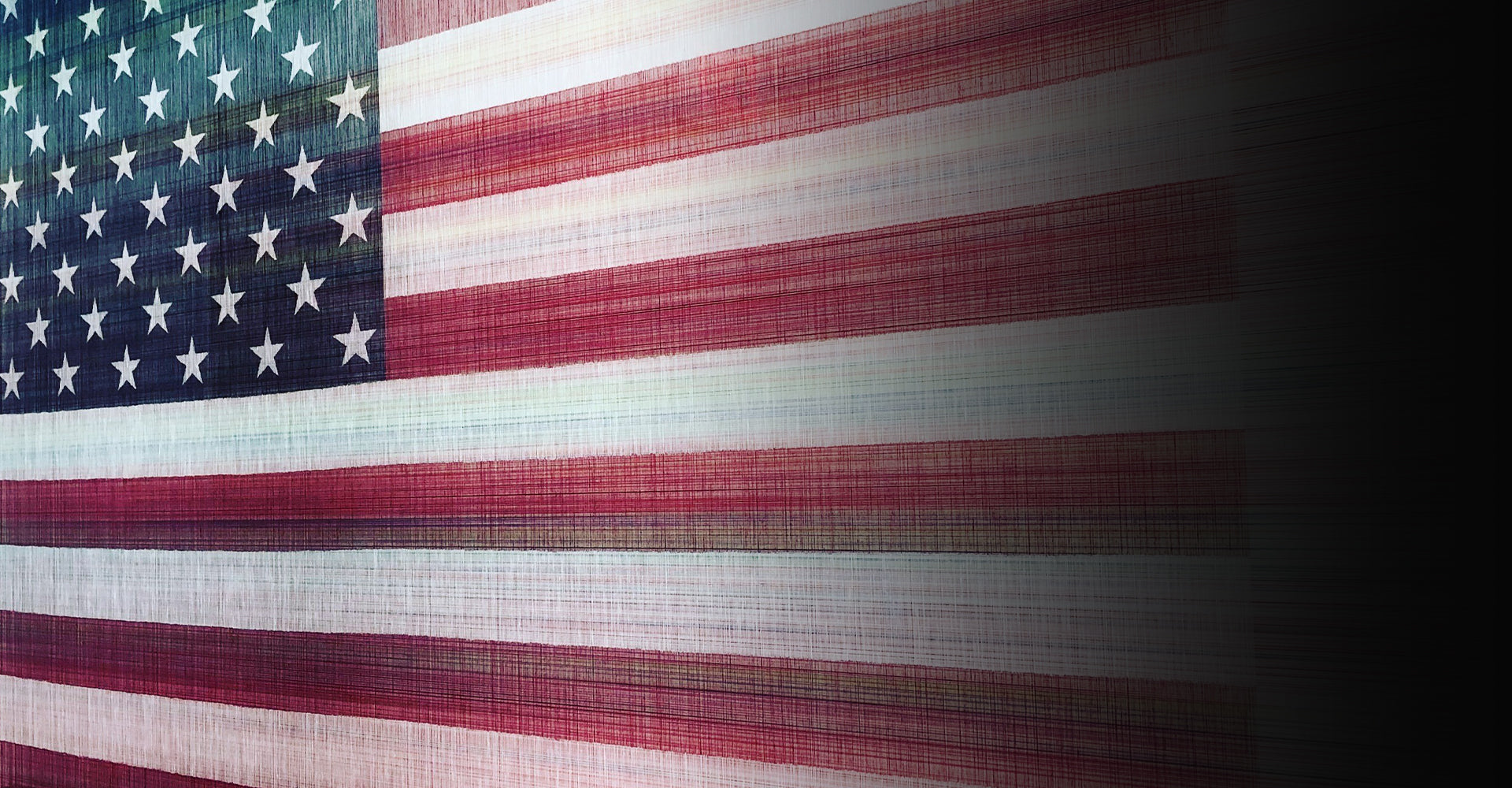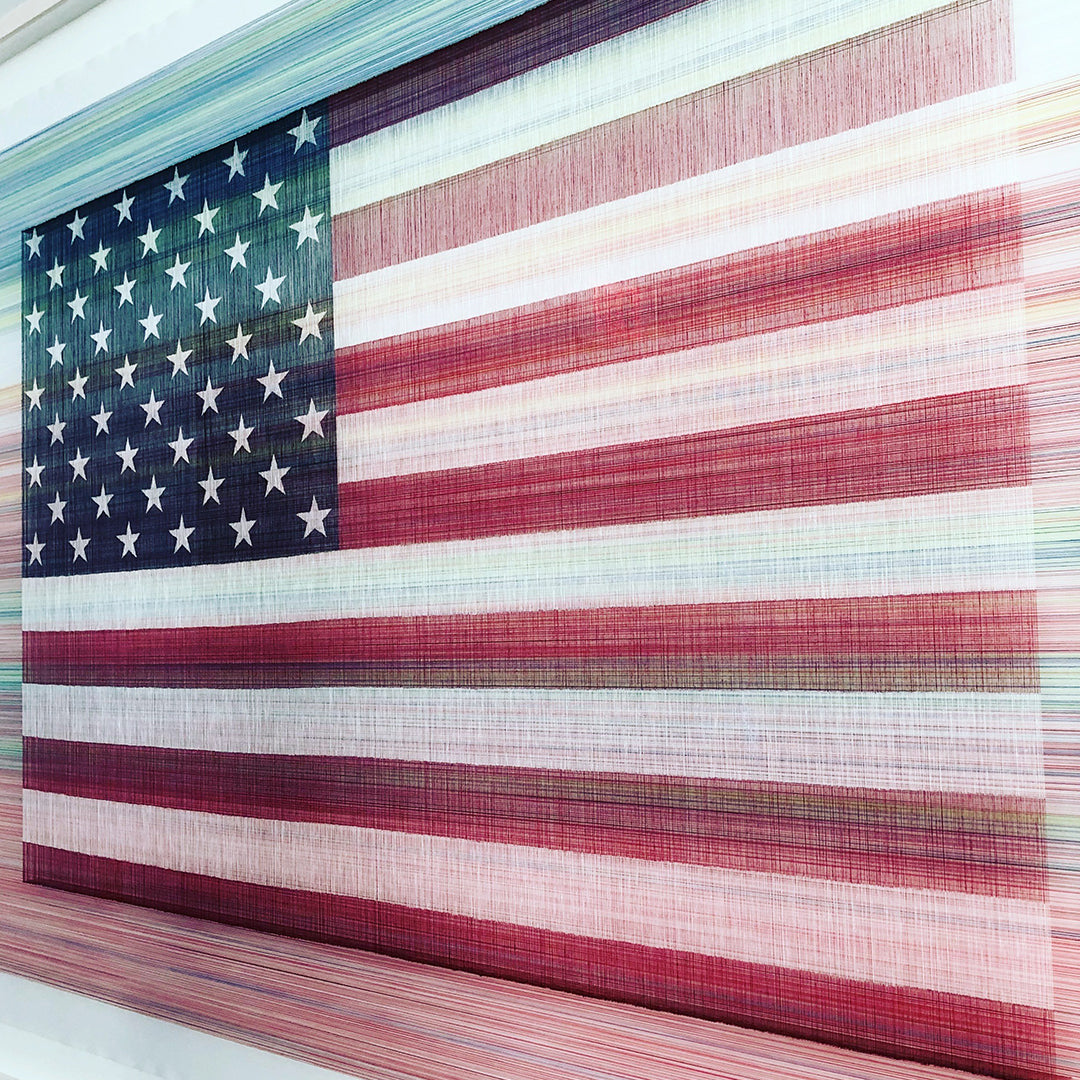 Executive Order
by Jeremy Dean
Taking inspiration from MLK's famous letter written from the Birmingham Jail in 1963, this work was created for Rabbit Hole distillery in 2018 as a hopeful response to the Trump administrations original executive order 13769 that banned immigrants from seven Muslim-majority countries.
Learn More

›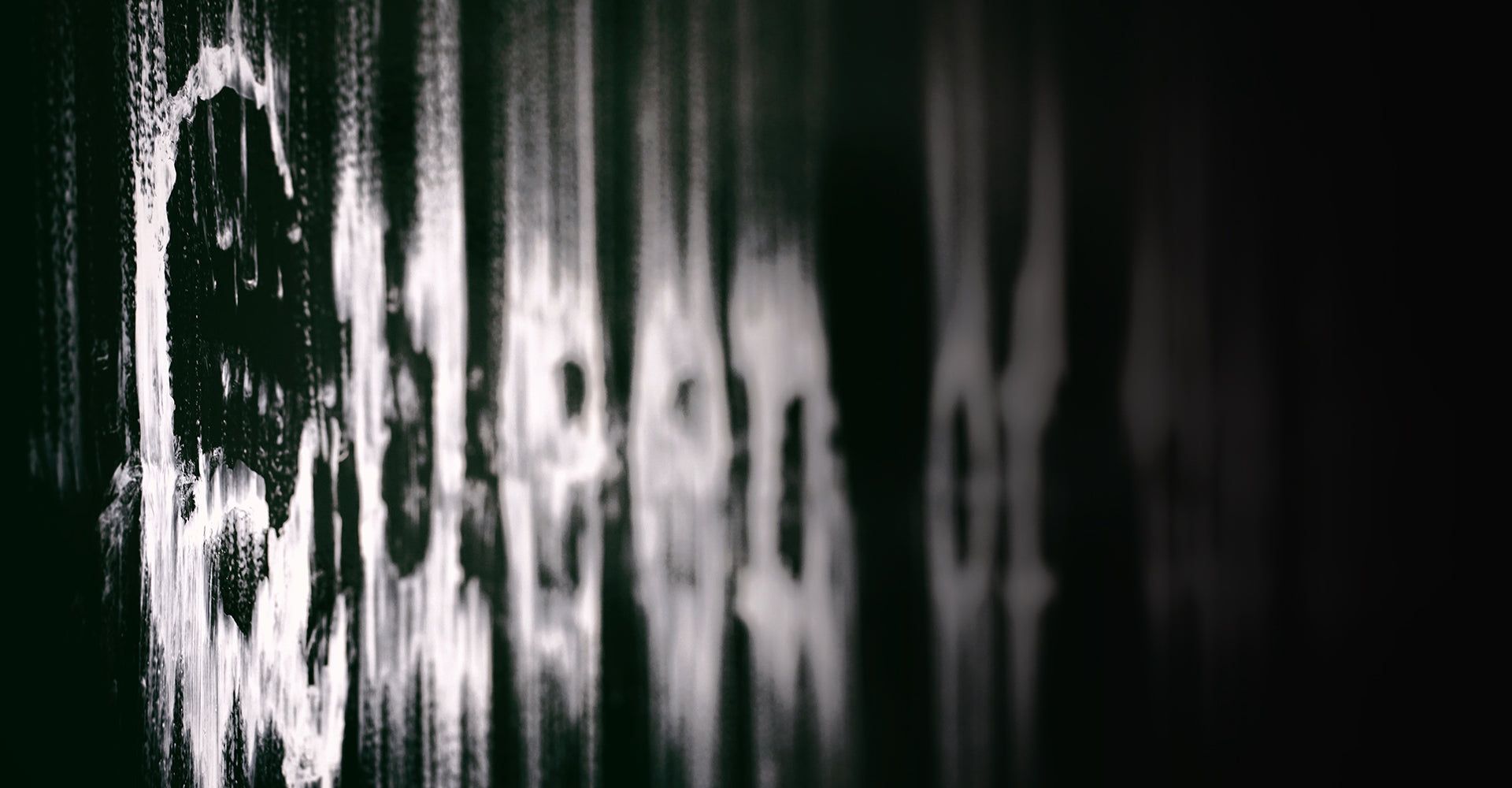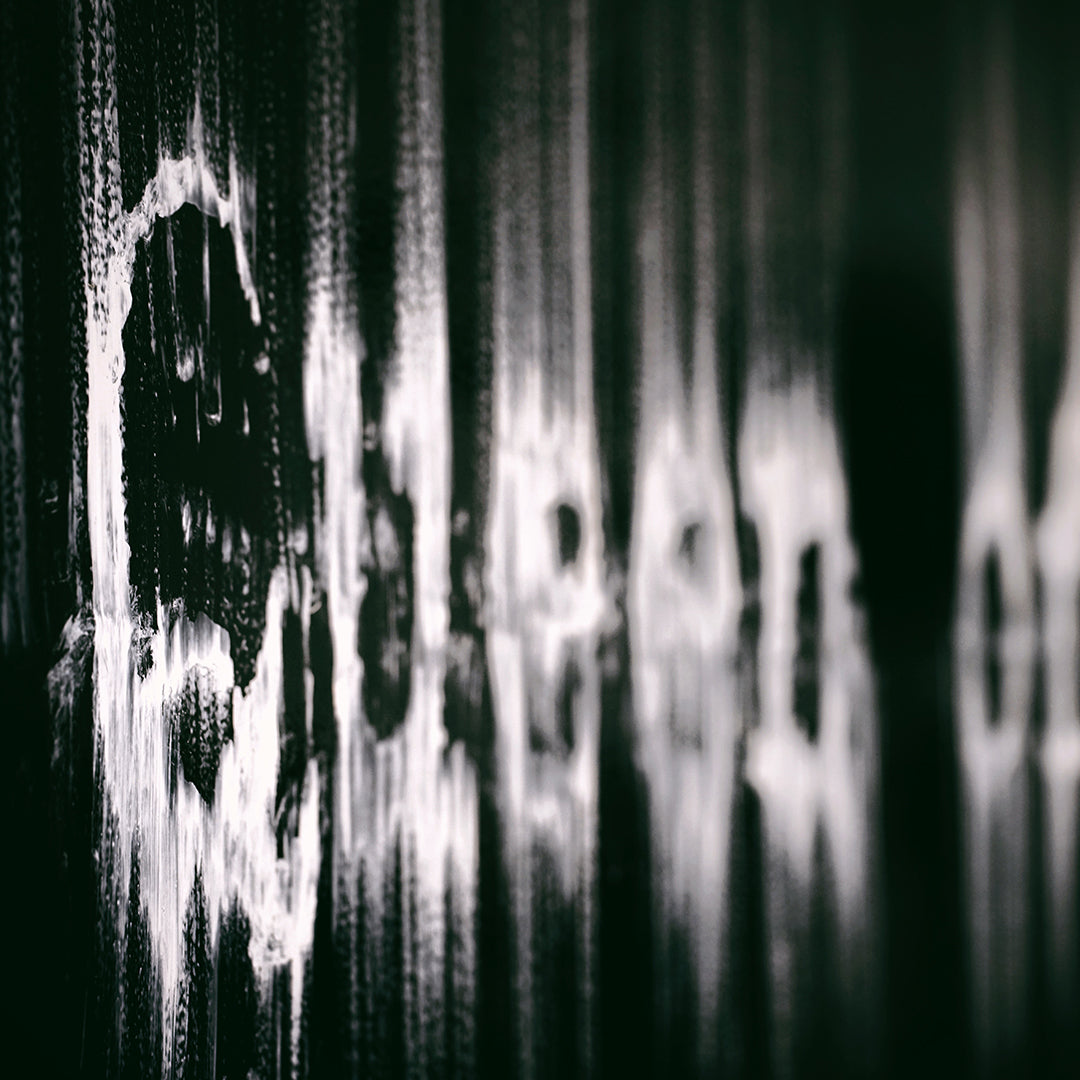 Spirit Runners
by Gary Simmons
This ghostly piece of art, rendered using Simmons signature erasure drawing technique, honors forgotten distilling heroes of the past.
Learn More

›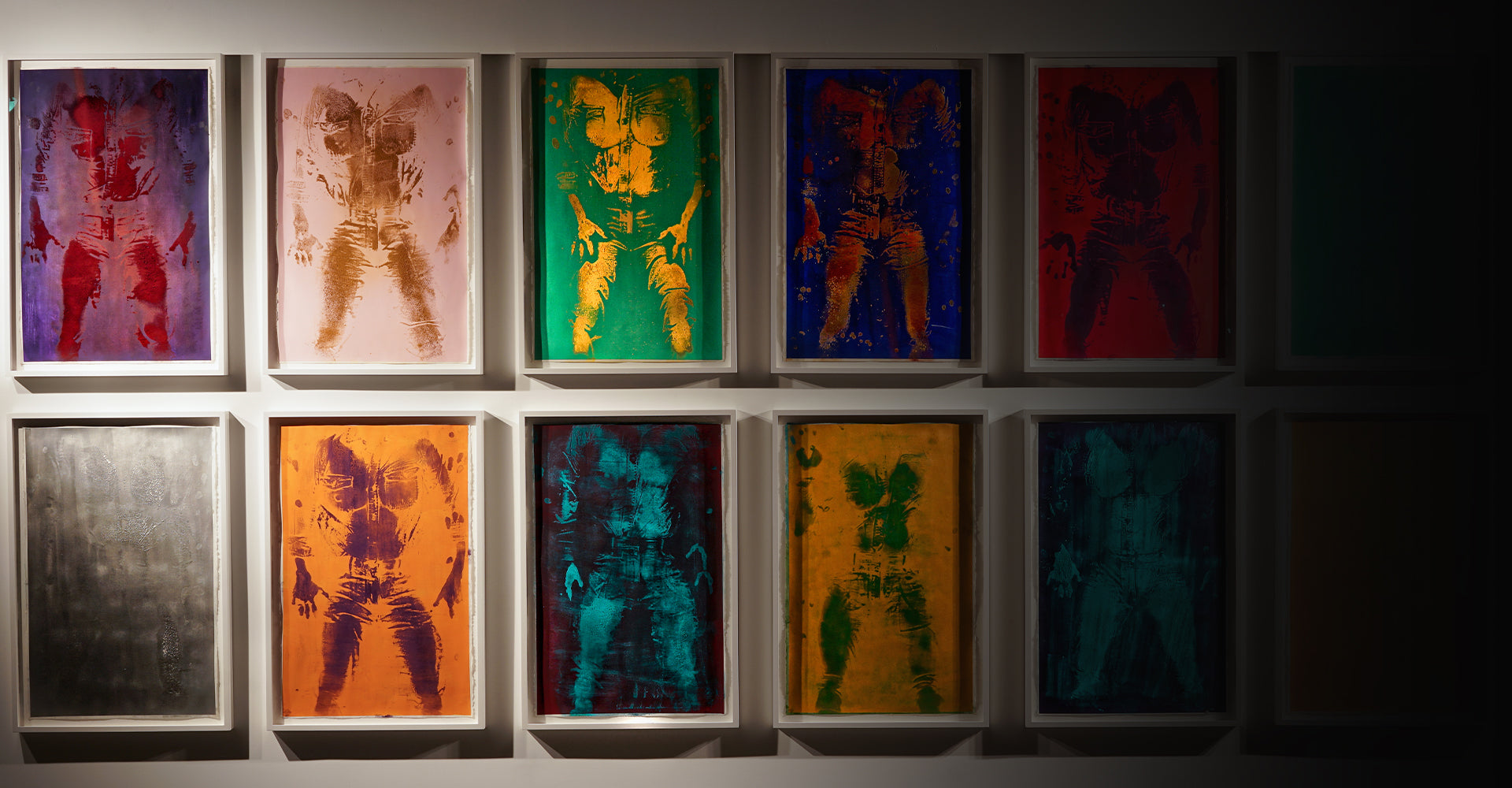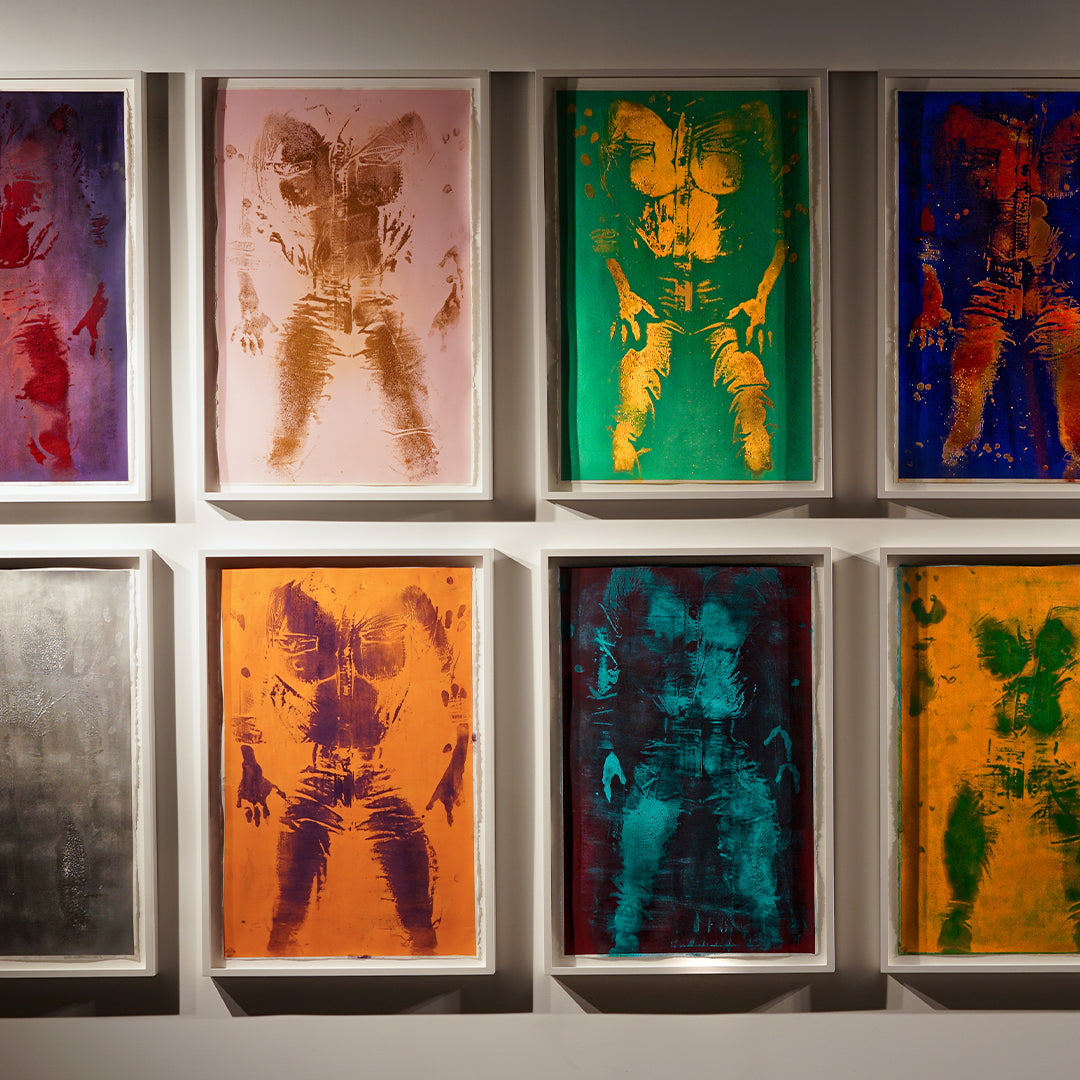 [M][O][V][E][M][E][N][T]
by Keltie Ferris
A series of body prints inspired by the Woman's March in Washington, DC following the 2017 Presidential Inauguration.
Learn More

›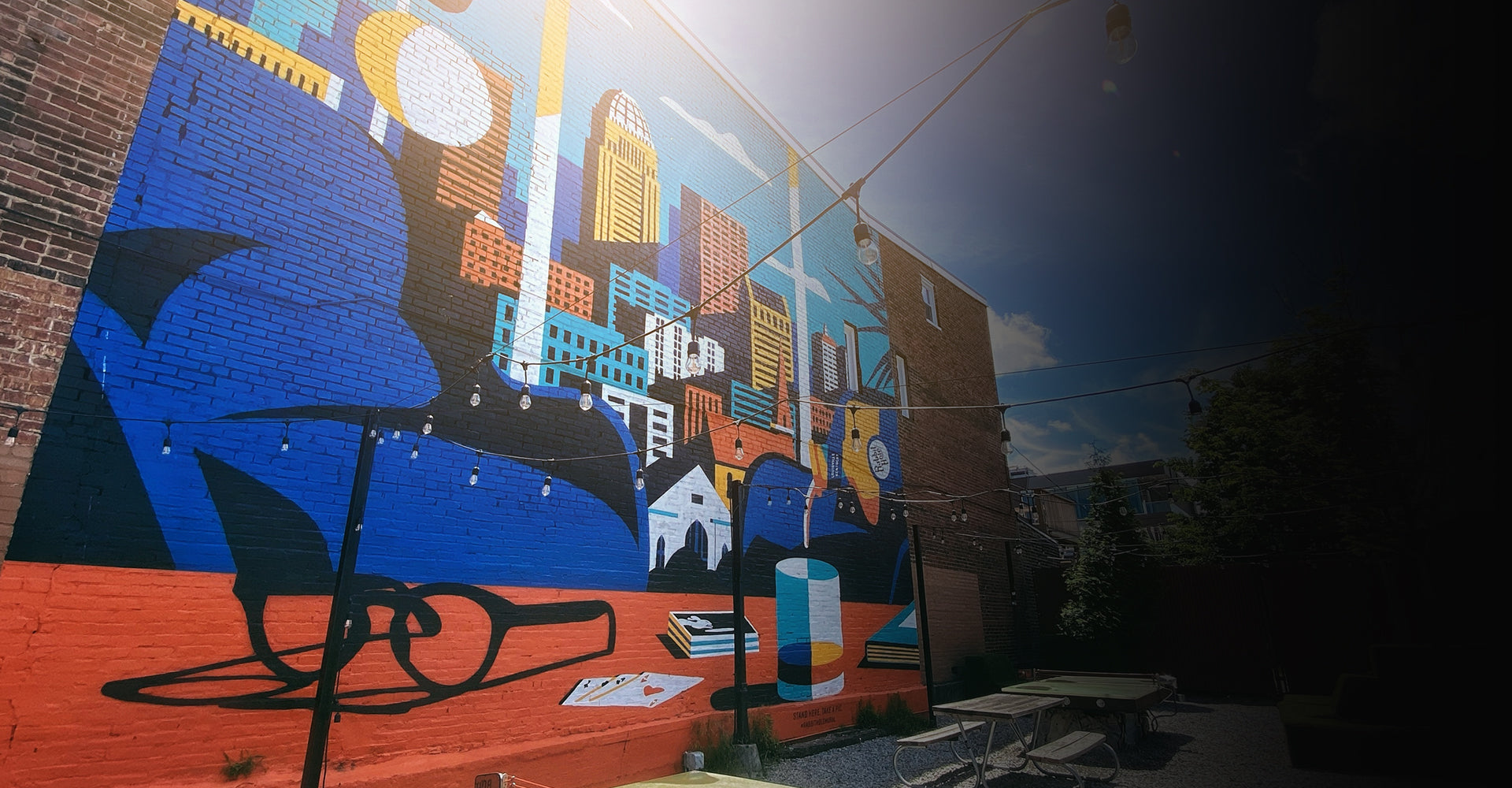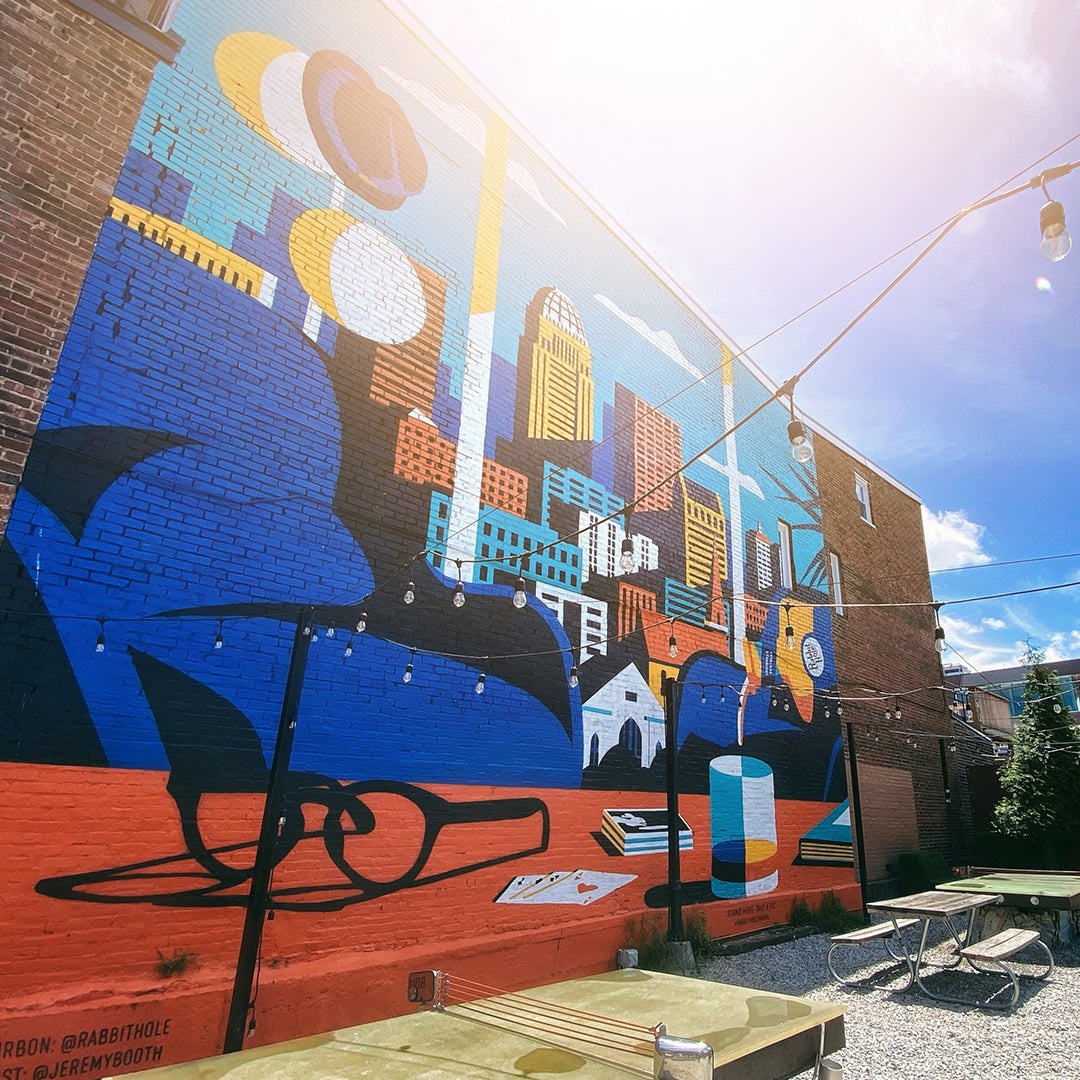 #RabbitHoleMural
by Jeremy Booth
This iconic mural, located in the center of Louisville's arts district, portrays a mid-century minimalist view of our great city from the vantage point of Overlook, our cocktail lounge located on the top floor of our distillery.
Learn More

›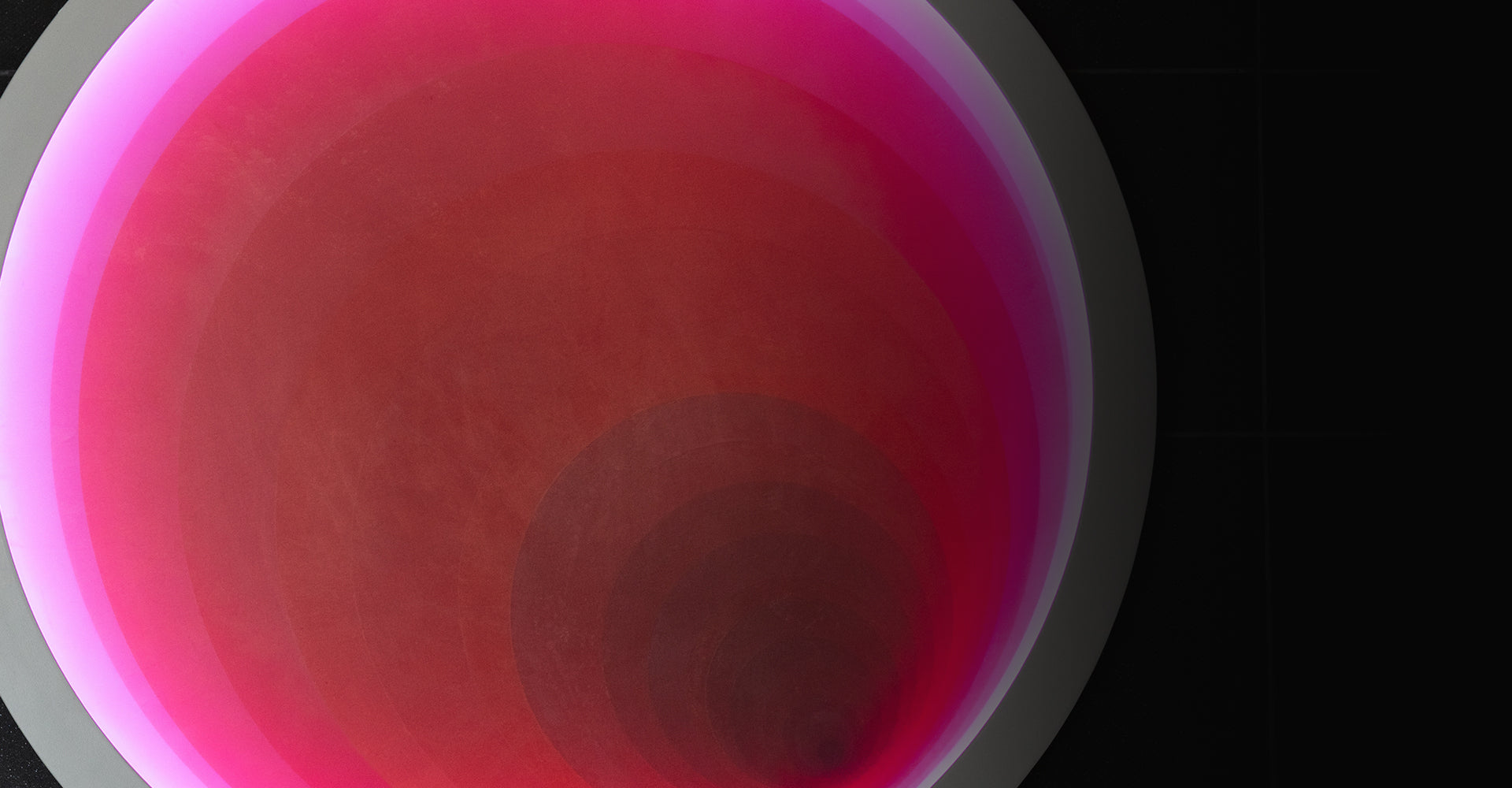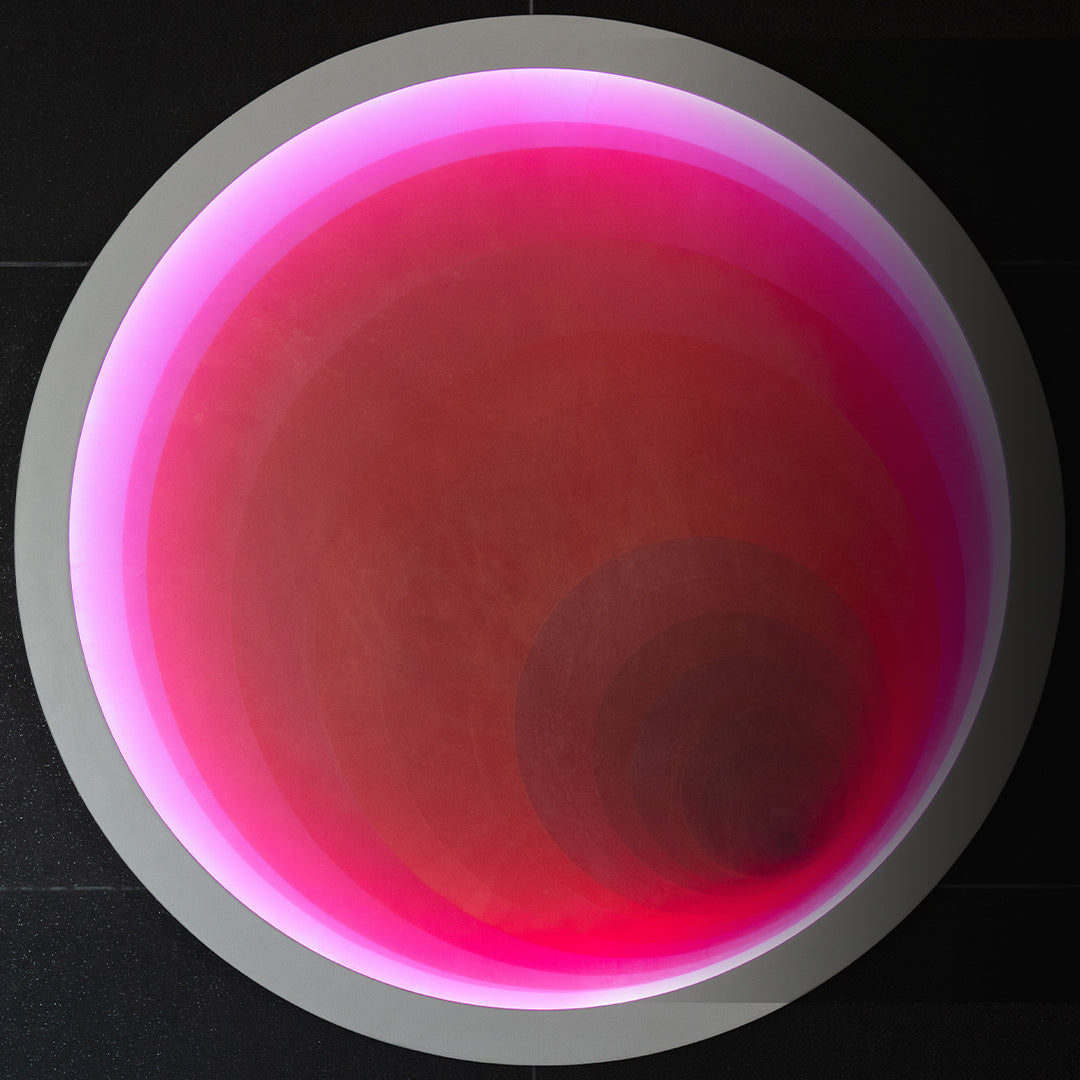 Hyperspace 13
by Letitia Quesenberry
Inspired by the Light and Space Movement of the 1960s, this piece uses color lenses, filters, shadow and light as a means of pushing the boundaries of perception.
Learn More

›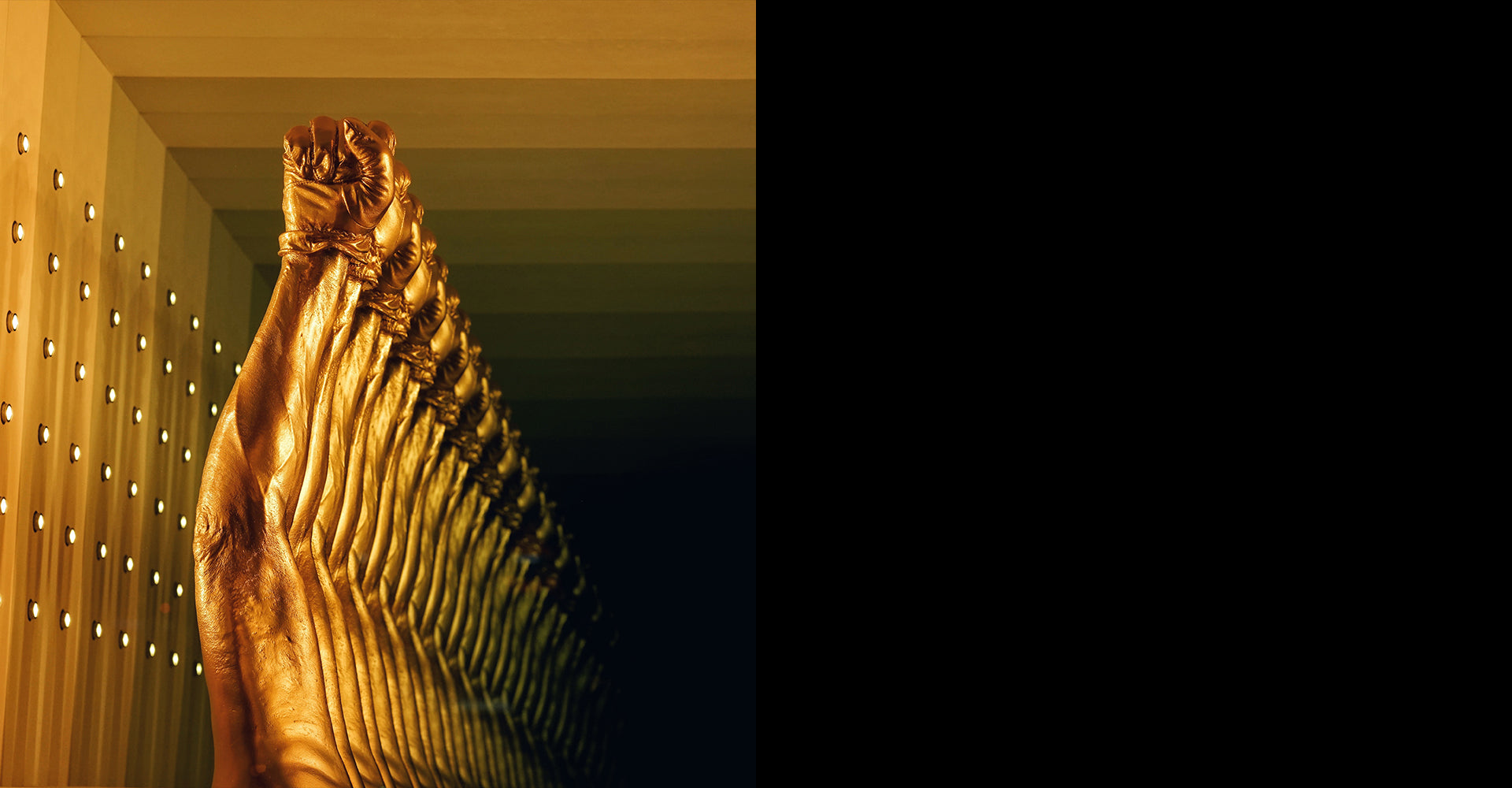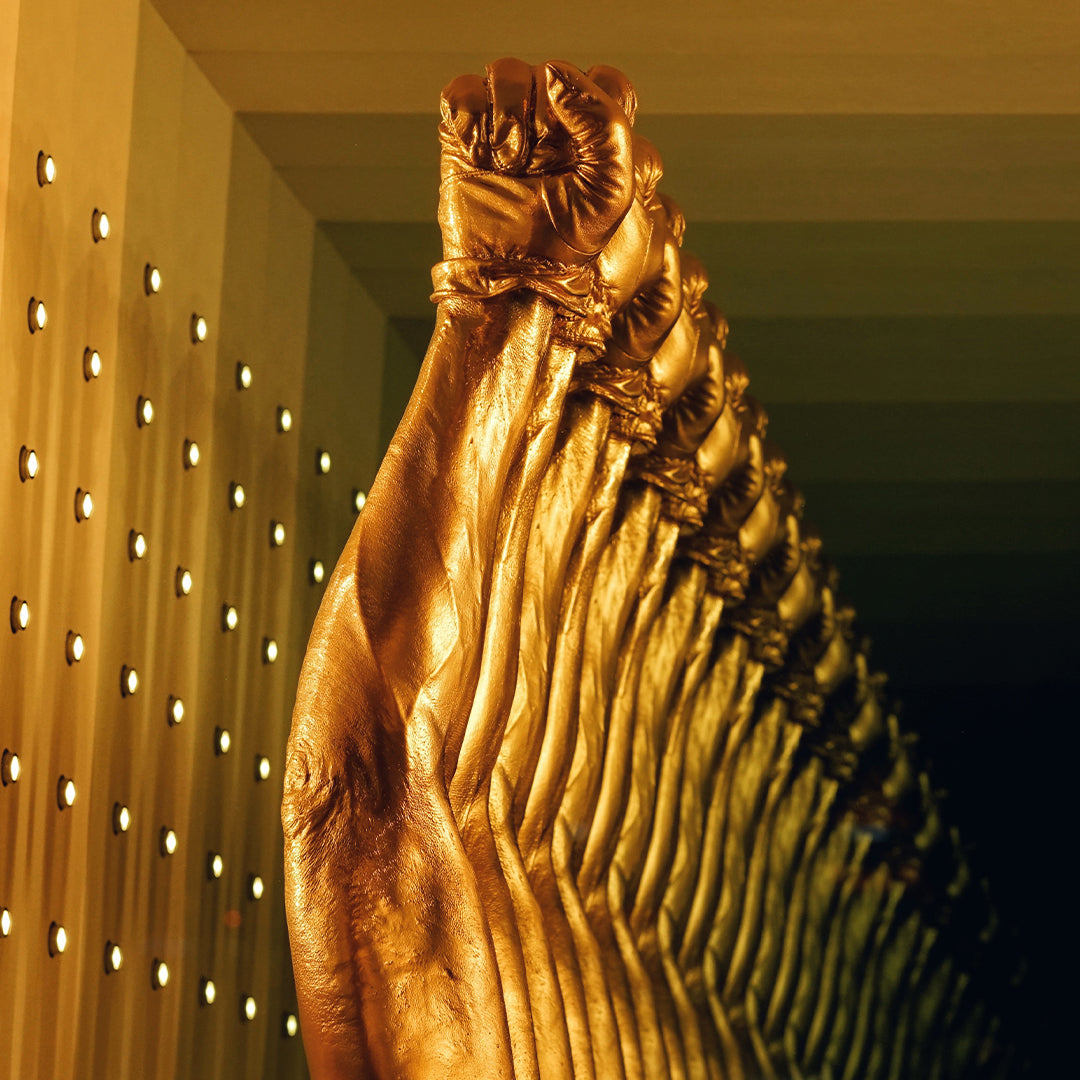 Glenn Kaino
Bridge (Victory)
Cast of the arm of Olympian Tommie Smith.
Bridge (Turn) is a continuation of Glenn Kaino's ongoing relationship with the athlete Tommie Smith, who along with fellow athlete John Carlos, famously raised his arm and black-gloved fist in a symbolic form of solidarity for the fight for human rights after winning the gold medal in the 200-meter men's race at the 1968 Olympic Games. The gesture, still resonates today as catalytic symbol for a multitude of beliefs, ideas and social causes.

The arm in this piece is an actual cast of Tommie Smith's gloved arm. In 2013 Kaino made a monumental sculpture using the same cast to create a 100 ft long construction of cast arms to form Bridge. The sculpture formed a literal and figurative bridge. Or as the artists describes, "it is a golden path leading forward from the present but connected to the past, a spectacular reconciliation of a historic record, an individual memory, and a public symbol all renegotiated in an infrastructure of time to creates stories of the now."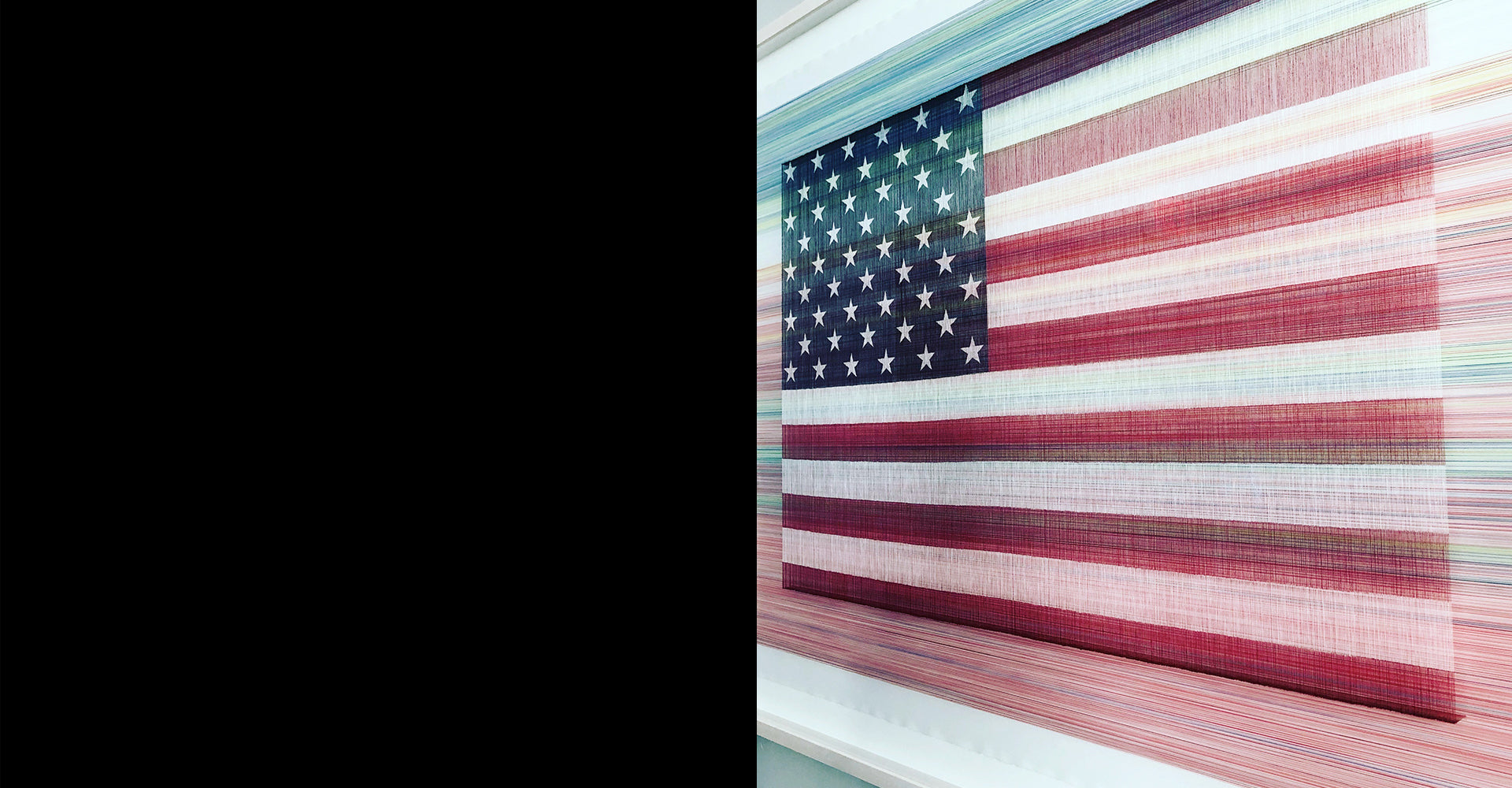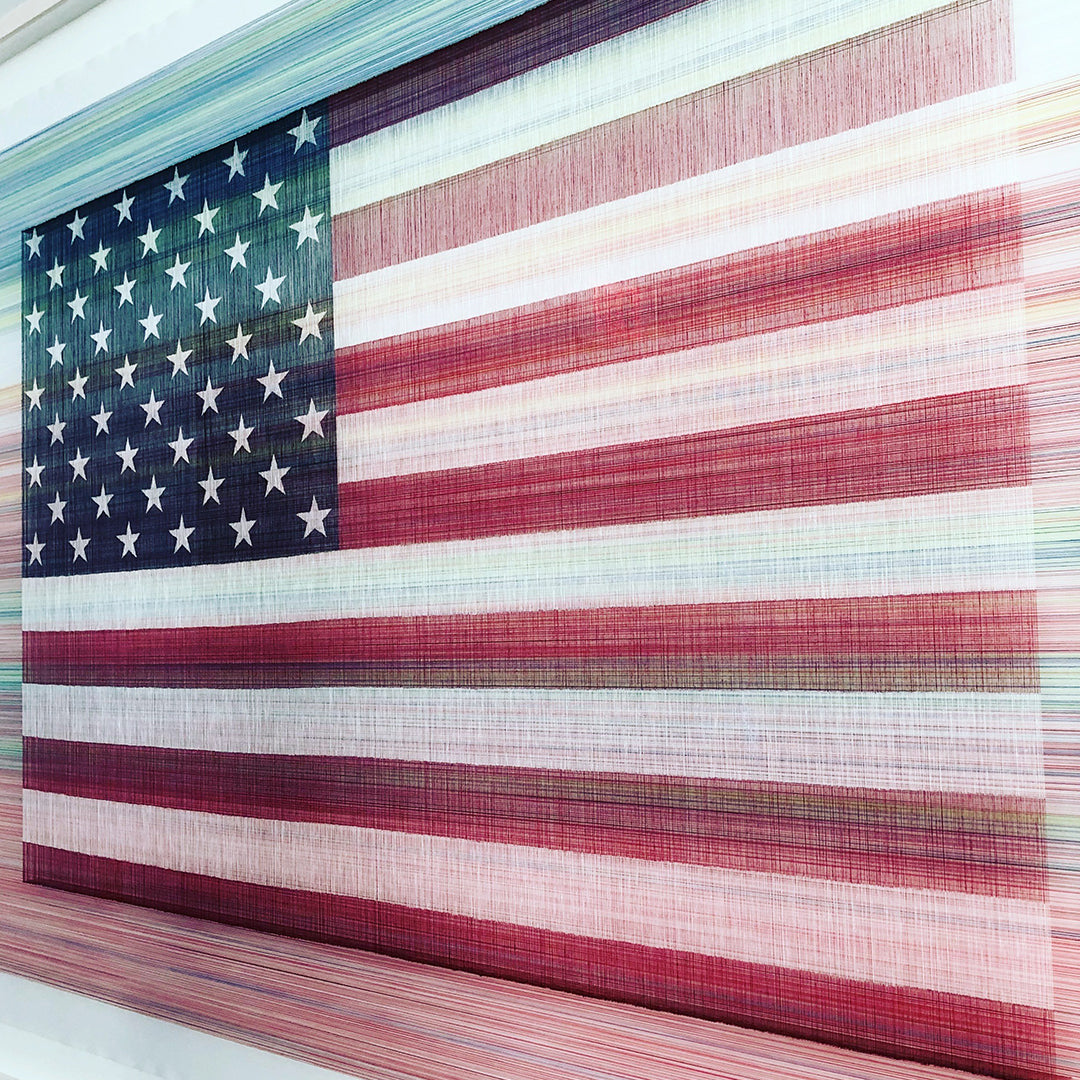 Jeremy Dean
Executive Order 13769
Threads from the Iran, Iraq, Libya, Somalia, Sudan, Syria, Yemen and American flags; 25,000 needles, custom frame.
The overlapping colors of the flags from the eight Muslim-majority countries cited in the Trump administration's Executive Order 13769 create shifting perspectives of these symbols of nationhood. Dean suggests that the work can be seen as a metaphor for "restitching our connectiveness," further suggesting that our "connection to others can be severed but not forgotten." This is a fundamental aspect of human nature that we may lose sight of at times but is never really gone. The Rabbit Hole commission is one of Dean's largest flag constructions to date. Unweaving the American flag and the seven foreign flags string by string, Dean then reassembled only the vertical (warp) strings of the American flag over top of a selection of horizontal (weft) strings of the foreign flags. The end of each string is threaded through a needle and pinned back into registration (over 25,000 hand knotted needles).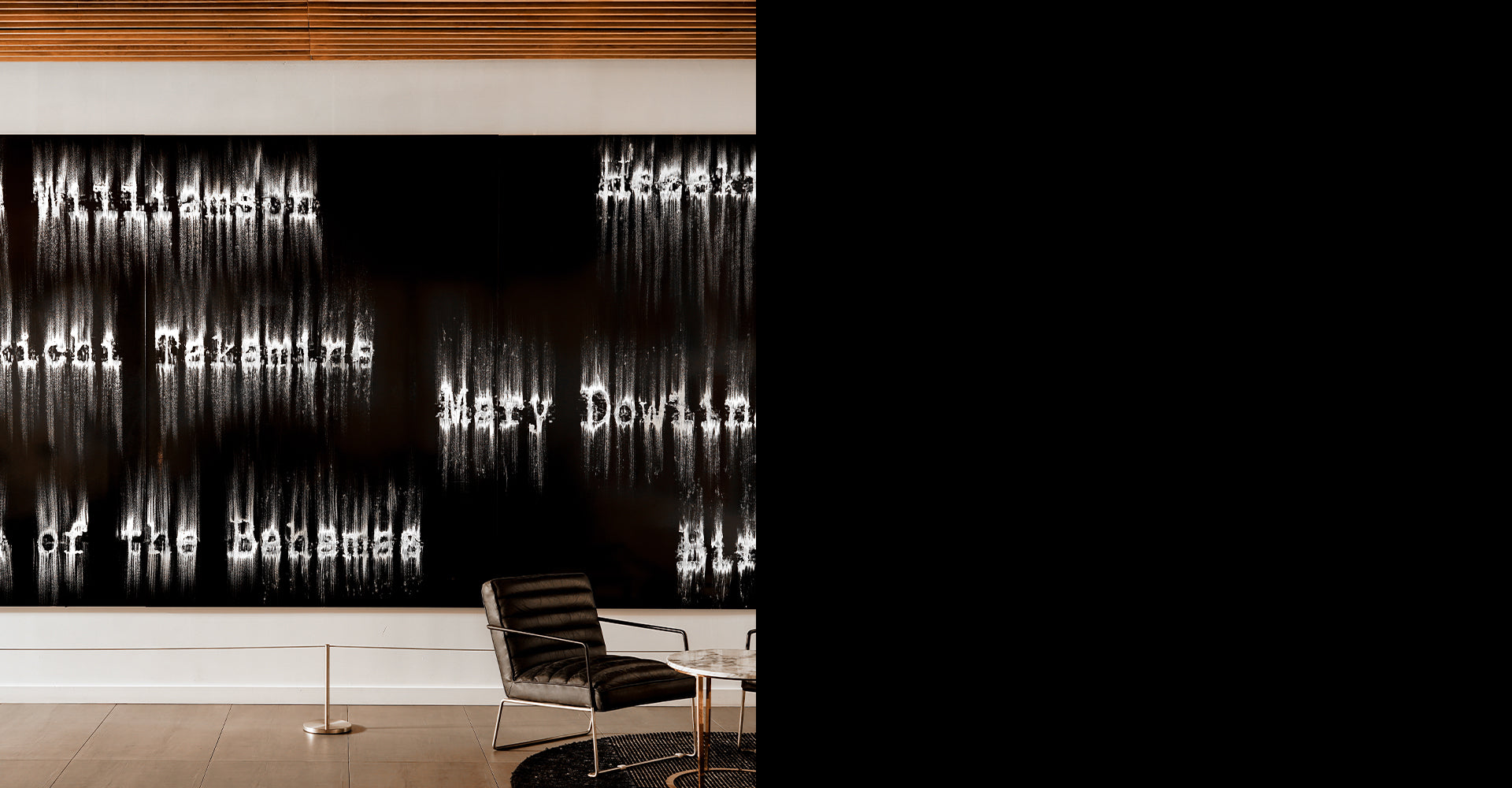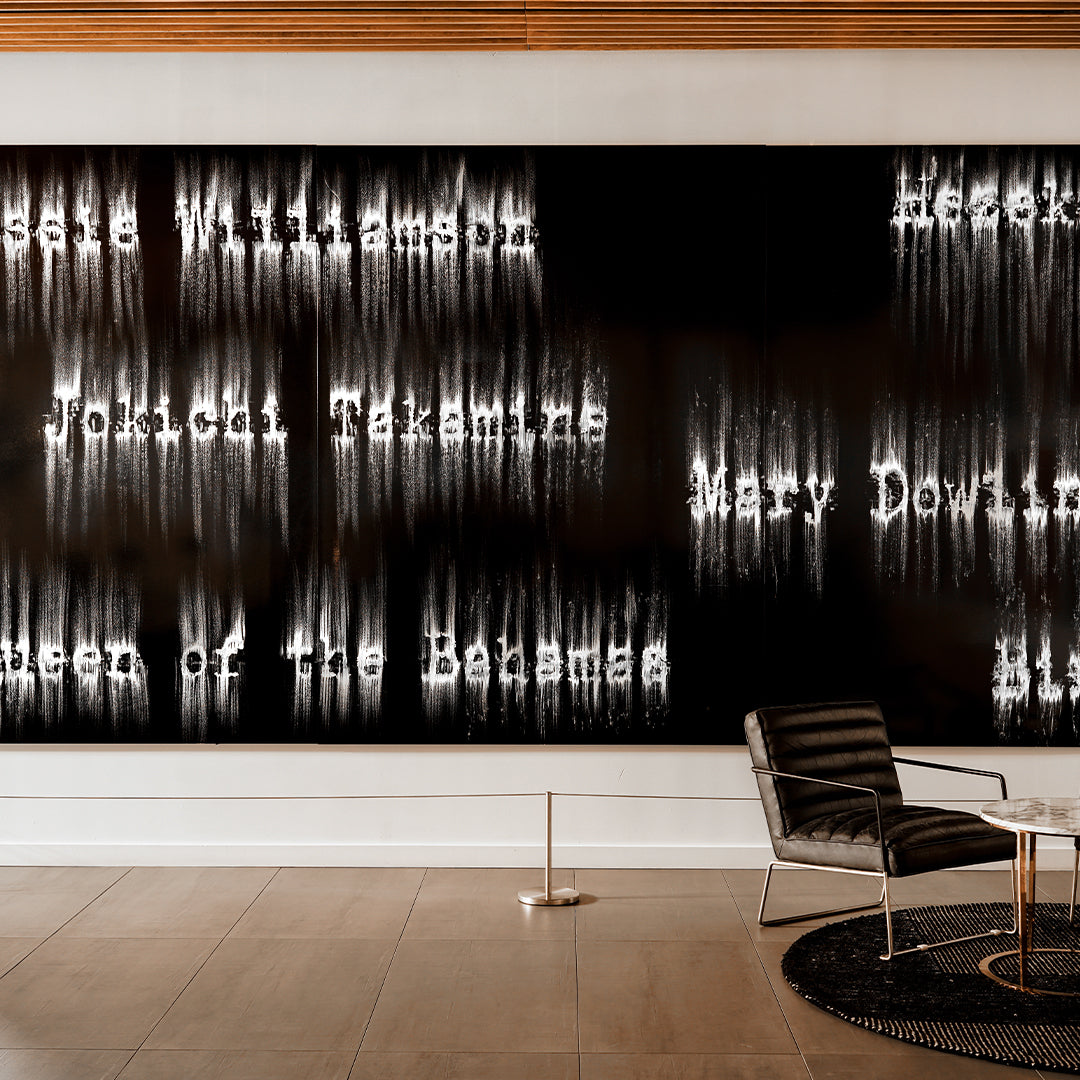 Gary Simmons
Spirit Runners
White chalk on slate painted panels.
Honoring forgotten distilling heroes of the past, this erasure drawing, in which Simmons draws in white chalk on slate painted panels, then smudges it with his hands, reveals a ghostly image that haunts the soul. This commissioned piece remembers:

Gertrude Cecilia Lythgoe (1888-1974) Queen of the Bahamas | Liquor Wholesaler | Rum Runner

Jokichi Takamine (1854-1922) Whiskey Scientist

Mary Dowling (1859-1930) Distillery Owner | Bootlegger | Businesswoman

Hezekiah Pierrepont (1768-1838) Distiller | Owner of Anchor Gin

Elizabith Leitch "Bessie" Williamson (1910-1982) The Lady of Laphroaig

Birdie Brown (1871-1933) Moonshiner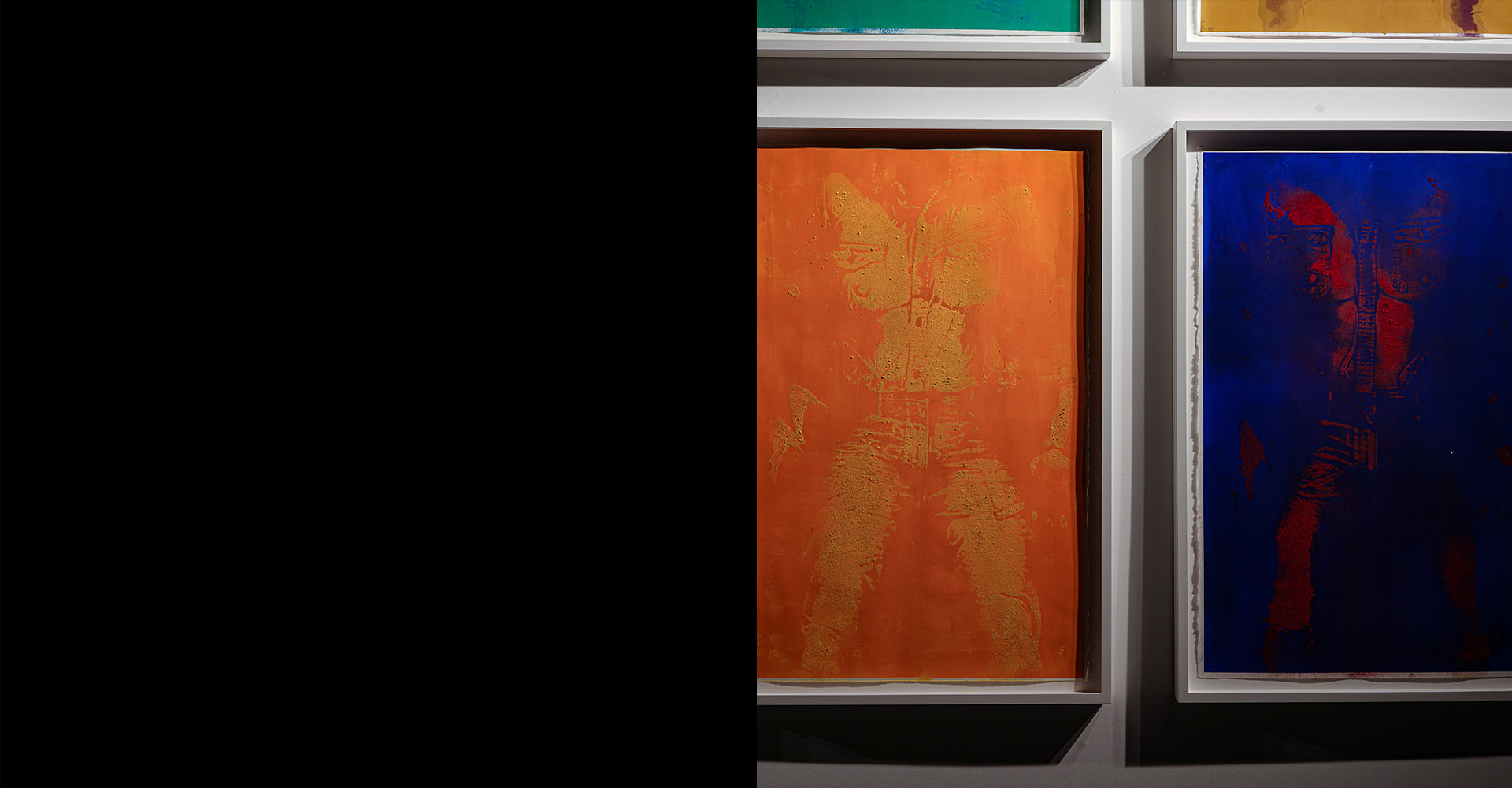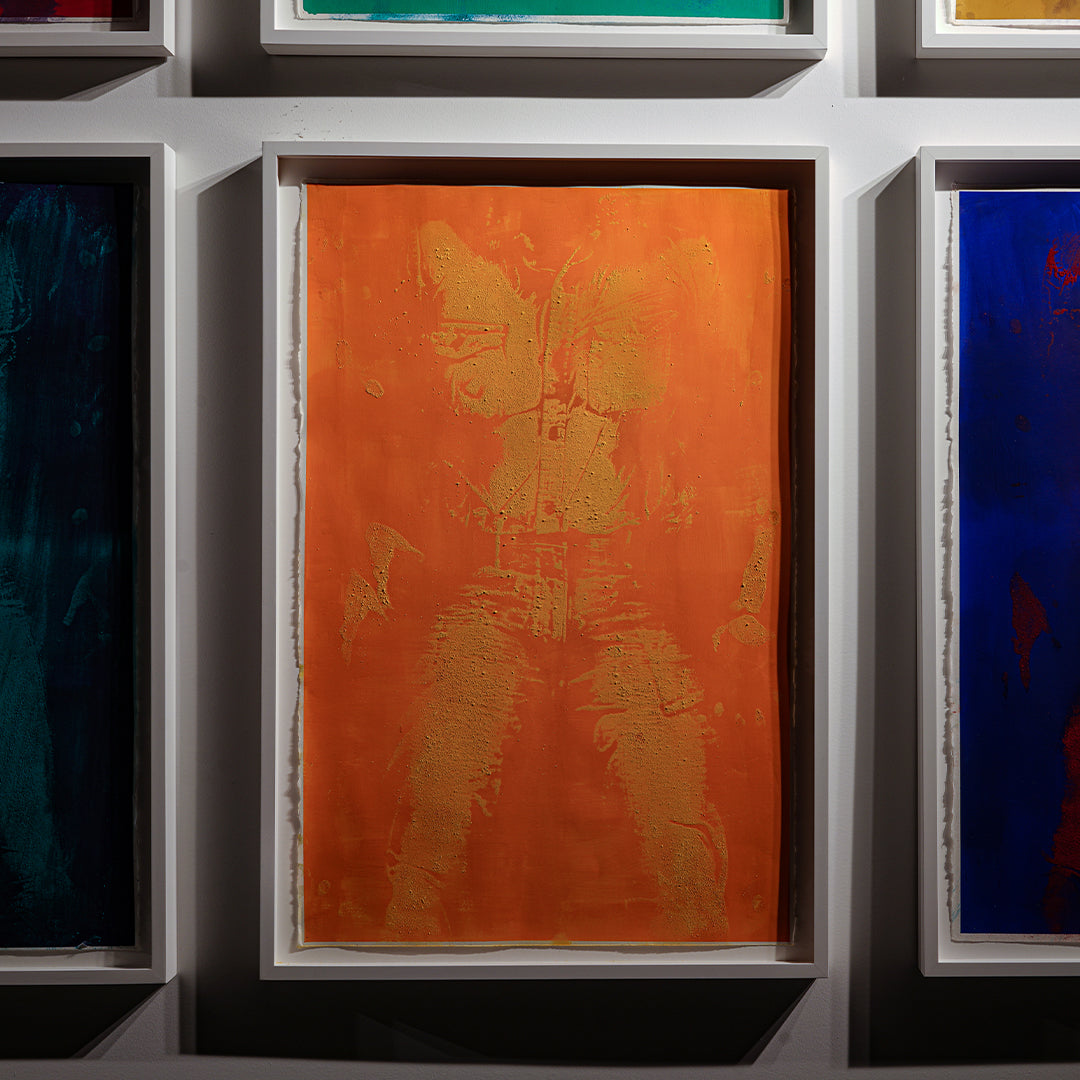 Keltie Ferris
[M][O][V][E][M][E][N][T]
Oil and powdered pigment on paper.
This group of 14 body prints by Keltie Ferris is inspired by the Women's March on January 21, 2017, which took place the day after the presidential inauguration. The display of body prints in a grid format, stacked two high, evoke the appearance of a crowd or a gathering of individuals in protest.

To create her body prints, Ferris covers herself in natural oils and pigments and presses her body against a life size sheet of paper. The body prints are a form of self portraiture, but in this particular body of work the artist has intentionally not included her head in the image. The resulting headless torso takes on what the artist calls an "Elvis stance" ( a reference to Andy Warhol's Double Elvis, 1963) and the modular quality of the portrait is "like an army of the every woman or every man."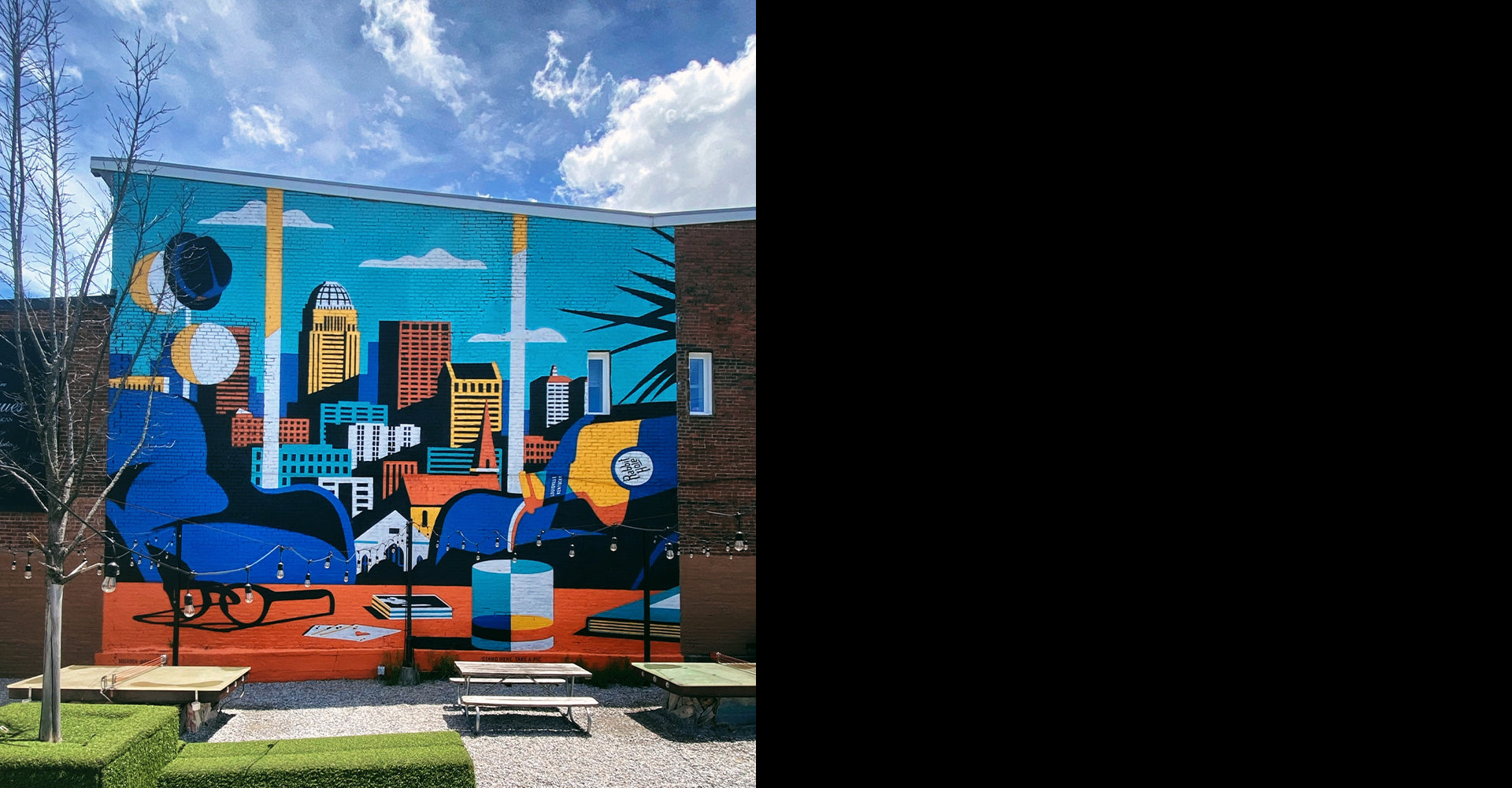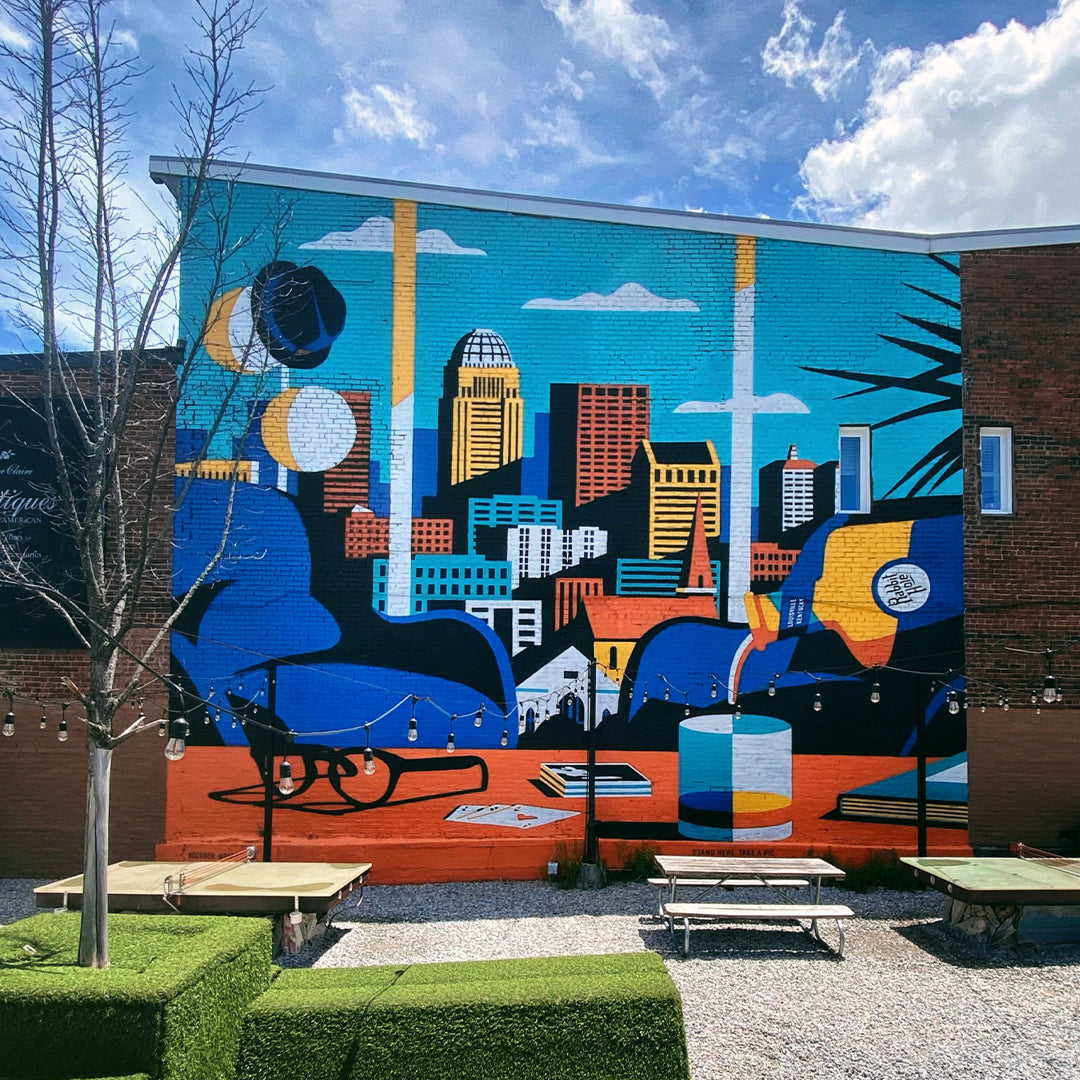 Jeremy booth
#RabbitHoleMural
Paint on brick.
This vibrant mural located on the most recognizable wall in Louisville's NuLu neighborhood is a depiction of Louisville's skyline from Overlook, our mid-century inspired craft cocktail bar on the top floor of our distillery. Created by local artist Jeremy Booth, it follows his signature minimalist style of bold lines, limited palette, and sharp shadows to become a landmark in the creative hub of our great city. In the preliminary stages, Booth spent hours sketching different scenic possibilities. After several iterations we landed on a drawing that truly embodied the life and optimism in Louisville. We projected the final sketch onto the white-washed brick in the dead of night. With that, the piece came to life. After creating a digital stencil, Booth and team worked five days around the clock creating our larger-than-life, modern masterpiece.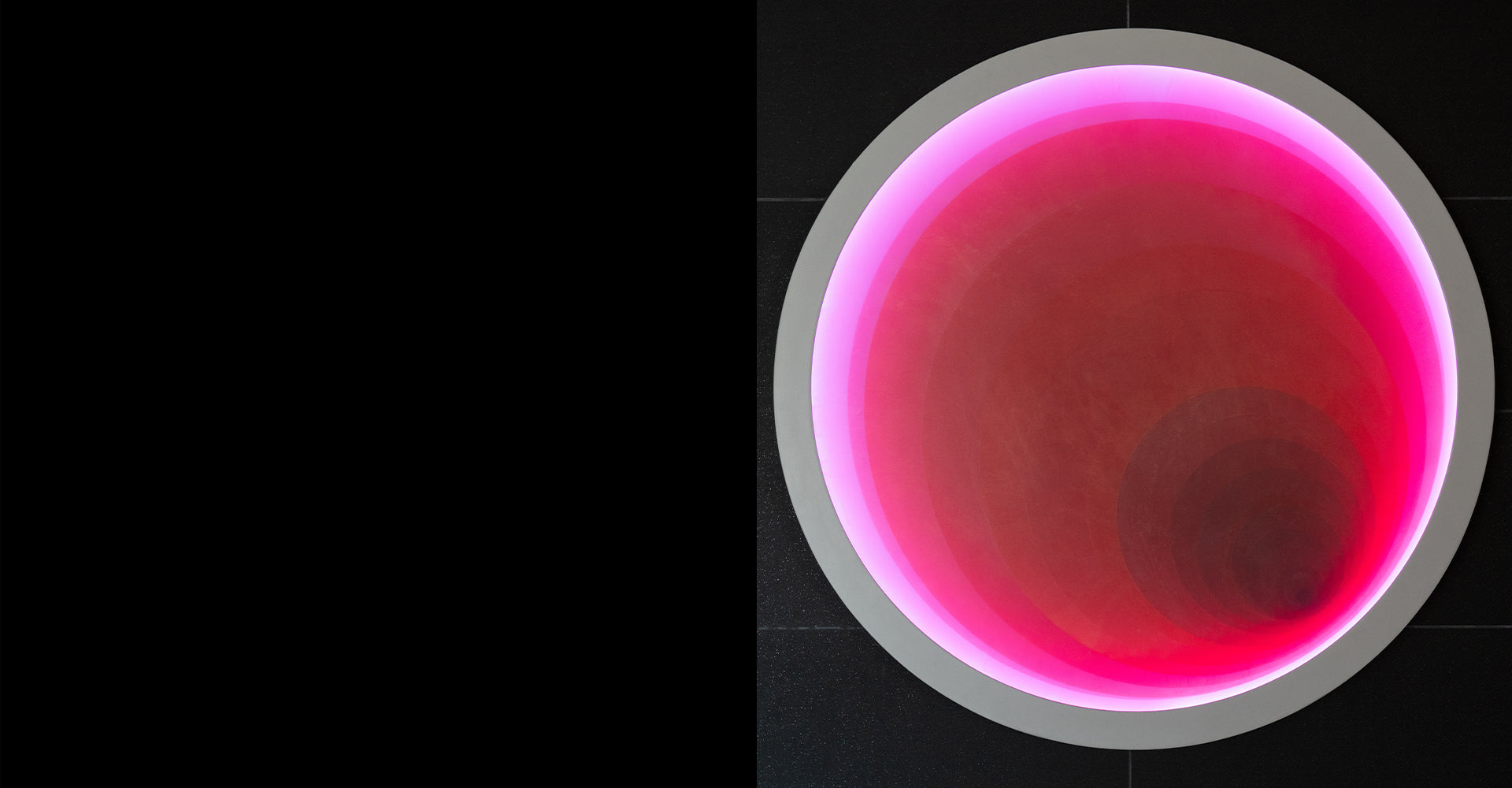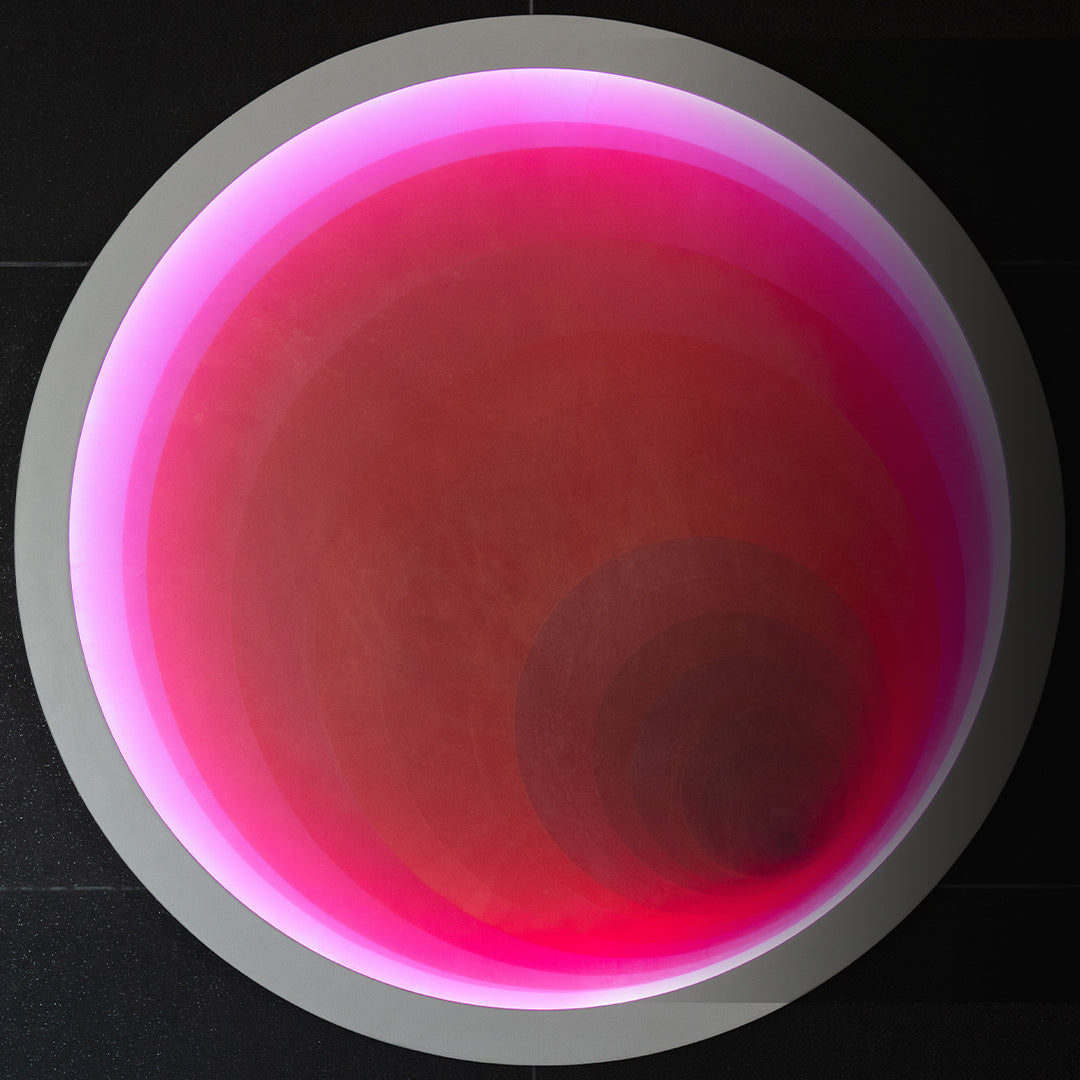 Letitia Quesenberry
Hyperspace 13
Wood, plexiglass, and spray paint.
This piece is from Quesenberry's ongoing Hyperspace series, which she began in 2015. For over 20 years, she has created individual bodies of work that are seemingly different because of her pursuit of different materials (Polaroid, painting, sculpture, light, and technology), but the constant thread throughout her work has been to push her chosen medium (or material) to its edge. Hence the name "Hyperspace." The result is a literal blurring of lines and depth of field but metaphorically bring to bare our own perceptions of preconceived truths and narrative.  Hyperspace 13 was influenced through collaborations with the Louisville Ballet and the Light and Space movement of the 1960s. James Terrell and Bruce Nauman were influential in this mature work.