DIFFERENT TYPES OF
BOURBON DRINKS
Some people are loyal to straight bourbon neat or on the rocks. Others prefer to pair their bourbon drinks with citrus or spicy ingredients. Either way, the right bourbon allows you to try out all different recipes and bourbon drink types, so you can find the one you enjoy most. Check out a few of our favorite bourbon drinks or preparation methods

...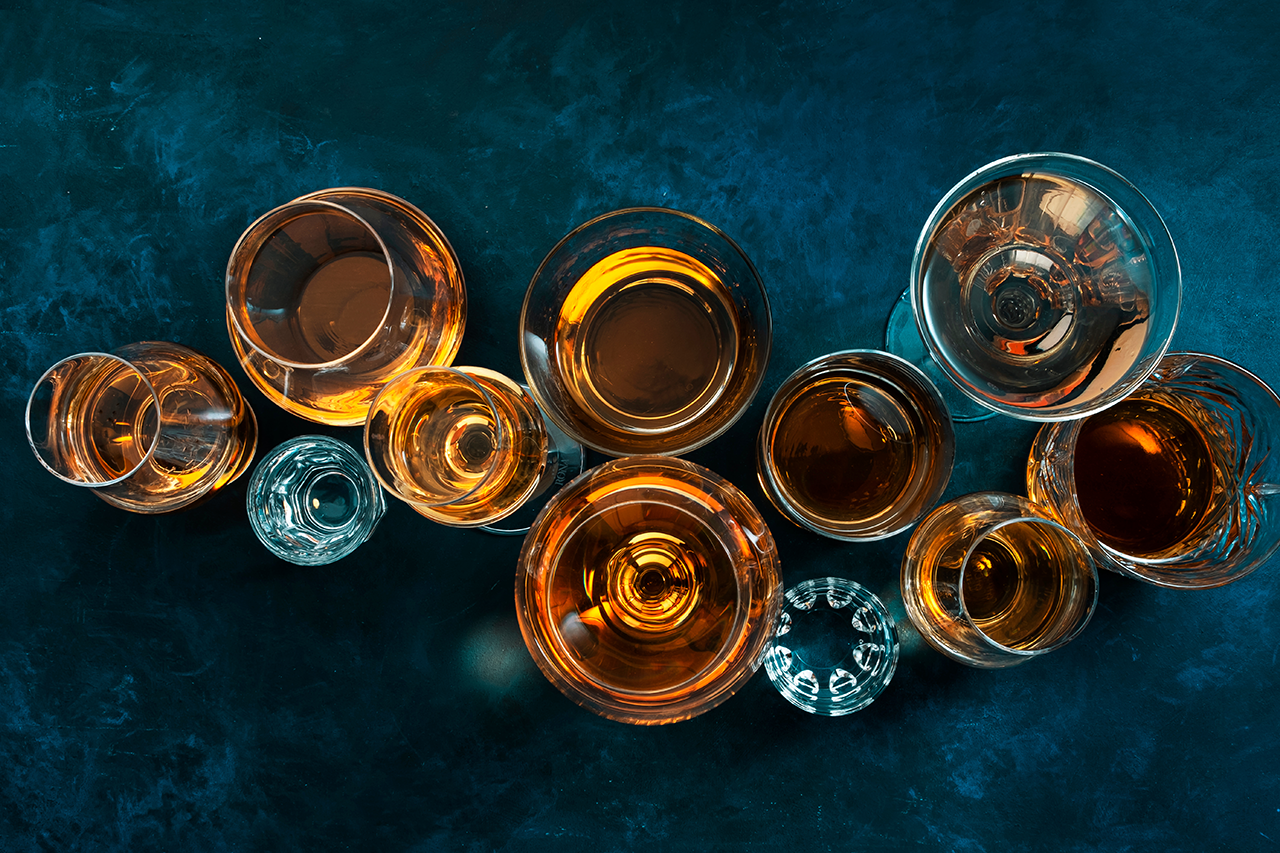 Neat
Simple and clean best describes bourbon served neat. A neat bourbon is 2 ounces of bourbon served in an old-fashioned glass. Neat is one of the simplest ways to enjoy bourbon. It doesn't include any ice, mixers, or garnishes. Instead, neat bourbon drinks are all about the bourbon flavor. Ordering a bourbon served neat allows you to really savor the cocktail's vanilla, oak, and caramel notes.
However, choosing a premium bourbon is crucial because there won't be other flavors to offset it. Also, because it's served at room temperature, you get the full effect of the flavor notes. A neat bourbon drink is best for purists or those who enjoy bourbon without all the extras. Once you find a bourbon flavor that appeals to your taste buds, there may be days that you prefer it served neat.
On the Rocks
Bourbon on the rocks is another one of the simplest yet most popular bourbon drinks. Ordering bourbon on the rocks will get you bourbon poured over ice cubes in a flat-bottomed glass. Because an on-the-rocks drink only contains bourbon, choosing a premium brand with an appealing flavor is important. The ice rocks chill the bourbon perfectly while exuding its aromas and flavors.
Ordering any spirit, including premium bourbon, over ice helps dilute the flavor. This leads to a flavor profile that is smooth and strong. If you're a slow sipper, ask for just one ice cube in your drink.
Cranberry Bourbon Cocktail
The cranberry bourbon cocktail offers a refreshing twist with a lighter taste than when compared to other bourbon drinks. Cranberry balances bourbon well, giving your favorite bourbon drinks a sweet, tart flavor profile. Adding cranberry also makes bourbon a great choice for the holiday season. The cranberry bourbon cocktail is made with bourbon, cranberry juice, and fresh lemon juice. Some people also add in simple syrup for an even sweeter taste.
With just three or four ingredients, the quality of each one is important when making the best cranberry bourbon cocktail. To start, you need a smooth bourbon, as it'll set the base for your drink. We also recommend 100% cranberry juice and freshly squeezed lemons. Of course, you could also make this a low-maintenance drink by using lemon juice. The cranberry bourbon cocktail is best served over a glass of ice, which helps to chill the fruit juices and syrups for a cocktail that's refreshing and delightful.
Bourbon and Sage Cocktail
Bourbon drinks also pair well with the earthy, minty taste of sage. The bourbon and sage cocktail is perfect if you're looking for something flavorful and herby. This cocktail is made with bourbon, lemon, and sage syrup. You can also add a few fresh sage leaves or orange slices to the top of the glass as garnish. Orange peels help to bring out the smoky, woody notes of the bourbon.
Sage and bourbon drinks are a great choice for brunch or as a midafternoon cocktail. Some people also add honey to their bourbon and sage cocktail, but this is a taste preference. You can also play around with other variations of the bourbon and sage recipe, including bourbon and grapefruit or bourbon and orange juice.
Sweet and Spicy Bourbon Cocktail
The spicy undertones of bourbon and ginger beer's sweetness perfectly complement each other. This makes the sweet and spicy bourbon cocktail one of our favorite bourbon drinks. This cocktail includes ginger beer, strawberry juices, jalapenos, fresh strawberries, lime juice, and bourbon. You can also customize the sweet and spicy ingredients to achieve your desired flavor profile. Add in a few jalapenos to lean toward the spicy side, or go heavier on the strawberry for a sweeter cocktail. 
Add a fresh, full strawberry and a slice of jalapeno to the top of the glass to garnish this one-of-a-kind beverage. We recommend the sweet, spicy bourbon cocktail paired with brunch or an early morning celebration. The strawberries do a great job of refreshing you, whereas the jalapenos awaken and excite your taste buds.
Whiskey Sour
The whiskey sour is a simple yet refreshing way to enjoy your favorite bourbon drinks. It's made with just four ingredients: bourbon, lemon juice, an orange wheel, and simple syrup. You can also add a few maraschino cherries on top for garnish. When you combine these ingredients, you get a mix of caramel and vanilla with hints of lemon and orange flavors. The best whiskey sour is shaken with ice, helping you achieve the right balance between sweet and sour.
Finding a perfect balance between the drink's bourbon and citrus flavors is important when making a whiskey sour. We also recommend choosing a premium bourbon to help find the right mix of flavors in this delicious bourbon drink. You can also take the traditional whiskey sour recipe to the next level by making your own simple syrup. Some people also add an egg white to their whiskey sour cocktail to give it a thicker texture. 
Old-Fashioned
The old-fashioned is classically sophisticated, making it one of the most ordered bourbon drinks. The old-fashioned beverage has withstood the test of time, dating back over 125 years. When you order an old-fashioned, you'll get a bourbon cocktail served with premium bourbon and ice in an old-fashioned glass. An old-fashioned includes bourbon or rye whiskey, a sugar cube, and Angostura bitters. 
The old-fashioned also sometimes includes a few dashes of water. We recommend using limestone water, a type of mineral water when making an old-fashioned. Kentucky limestone water helps filter out impurities while enhancing the flavors of an old-fashioned. With so few ingredients in an old-fashioned cocktail, it's a great way to enjoy the perfect blend of sweet and smooth that you get with premium bourbons. You can also easily stock up on old-fashioned ingredients for an easy, after-work cocktail.
Mint Julep
The mint julep has become the official drink of the Kentucky Derby, which guests pay upward of $1,000 to enjoy. Save yourself a few hundred dollars by making a comparable mint julep at home. The mint julep is one of those bourbon cocktails that are perfect for cooling off on a hot summer afternoon. Whether you're sitting by the pool or need a pick-me-up after a long day, the mint julep fits the bill.
If you've never tried a mint julep, you're in for a unique experience. Each of the flavors works together for a refreshing taste experience. The bourbon paired with simple syrups also gives this cocktail a delightful taste. The fresh mint leaves linger on the tongue, giving you an instant chill feeling. Throw on a fascinator headband or large hat while sipping your refreshing, affordable mint julep to get into the Kentucky Derby spirit.
Hot Butter Bourbon
Spicy and creamy, the hot butter bourbon is both festive and cozy. The hot butter bourbon is packed with flavor with a blend of brown sugar, vanilla, cinnamon, nutmeg, cloves, and allspice. Add in some soft butter and a cup of hot milk for one of the best bourbon drinks for late fall. The butter gives this cocktail a thicker consistency for a beverage that goes down smooth every time.
If you're craving the fresh apple flavors of fall, you can also play around with the hot butter bourbon recipe and add in a few drops of hot apple cider. The bourbon evens out the influx of sweet flavors in this cocktail for a perfectly balanced beverage. Even better, mixing up a batch of the hot butter bourbon will leave your home smelling fall holiday-ready.
Frozen Old Fashioned Slush
Cool off with a bourbon frozen old-fashioned slush. This beverage uses frozen orange juice, cherry juice, lemon-lime soda, and your favorite bourbon. This bourbon cocktail is easy to make, especially since you can leave the frozen orange juice in the freezer until you're ready to blend up a frozen old-fashioned slush. 
This is one of those delicious bourbon drinks that's also perfect for summer get-togethers. Mix up a large batch and serve them to your guests for a summer party they'll rave about for months. Swap out the ice slush for a few ice cubes to enjoy the frozen old-fashioned slush cocktail all year long.
Bourbon drinks can be smooth, spicy, or rich with fresh fruit flavors. Try out a few of the bourbon drinks on this list to find your next go-to drink. Once you have the right bottle of bourbon, you can play around with different ingredients and create a bourbon cocktail you're sure to love. You can also make variations to any of these recipes, including adding or removing ingredients to better accommodate you and your guests' taste preferences.
---