BEST GIN COCKTAILS
L

ooking for distinctive ways to use your favorite bottle of gin? You can combine the best gin with tonic for a classic cocktail or add fresh grapefruit or cucumbers for a unique concoction. Either way, the best gin makes for some of the most refreshing gin cocktails

...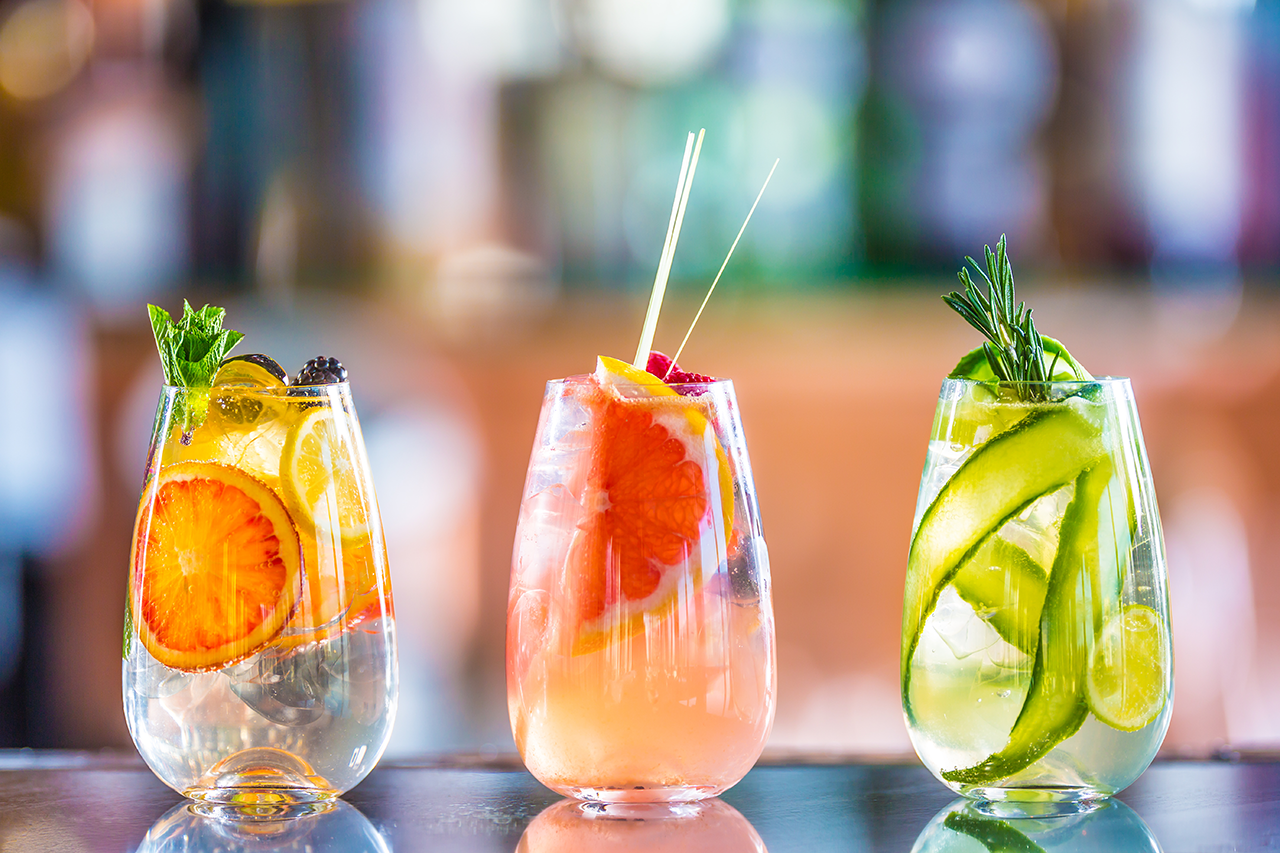 Salty Dog Cocktail
The Salty Dog is a twist on a classic recipe, the Greyhound. Using gin, a slice of grapefruit, and grapefruit juice, you can create a modern version of the Greyhound cocktail from the 1930s. Unlike its predecessor, though, the Salty Dog adds margarita salt to the rim to help give it a tarter flavor. Some people swap out gin for vodka, but the best gin can make this a refreshing, cooling beverage that we dare say may be even better than the original.
Blueberry Collins Cocktail
The Blueberry Collins cocktail will delight any blueberry or pomegranate fan. The best gin balances out the acidic, sweet taste of the fresh blueberries and blueberry pomegranate sparkling water. Add a few dashes of lime juice and simple syrup for a cocktail that will become your favorite. Pour it over top of a cocktail glass full of crushed ice. Some people choose to add a small amount of honey to shift the flavor from sugary to sweet.
Cucumber Gin Sour
Cucumbers and the best gin are a natural fit. The Cucumber Gin Sour cocktail combines gin, lime juice, simple syrup, Sprite, and cucumbers. Shaking the ingredients with ice chills the cucumbers to perfection, leaving you with a herby, delightful cocktail. If you add an egg white, you can obtain a thicker gin cocktail. You can also mix it with water if the cocktail is too herb-tasting. Add a mint leaf to your finished cocktail to balance out the strong cucumber scents and flavors.
Pineapple Gin & Tonic Cocktail
You'd be hard-pressed to find a gin cocktail more summer-worth than the Pineapple Gin & Tonic. All you need for this perfect citrus cocktail is some of the best gin (we recommend Rabbit Hole), pineapple juice, tonic water, and some fresh fruits. Fresh pineapple and cucumbers complement the cocktail's flavors, giving it a vibrant, tart profile. The optional pineapple leaves draw out the fruity fragrance of this delicious cocktail. If you like pineapples, you could swap the gin for extraordinary bourbon to create a pineapple-flavored whiskey sour.
Gin Fizz Cocktail
The Gin Fizz cocktail offers a perfect pairing of sweet and tart flavors. This beverage features the best gin, lemon juice, and sugar syrup. It's important to vigorously shake the ingredients of the Gin Fizz cocktail together using a shaker before straining it on top of a glass of ice for the best results. Then, add a lemon garnish for a sweet and savory summer cocktail. The Gin Fizz cocktail comes from New Orleans. Cocktail enthusiasts often describe the experience as sipping on a fresh lemon meringue pie.
Gin and Tonic
You can't get more classic than a gin and tonic. This easy-to-make cocktail requires just two ingredients: gin and tonic. While the best gin and tonic may be simple, it offers a sharp, warm taste that is satisfyingly smooth and easy to drink. Add a splash of lime juice for a spritz of fruity flavor on a summer afternoon. Of course, the quality of gin you use matters when using only two ingredients. The best gin can make all the difference for a classic gin and tonic.
Georgia Gin Cocktail
The Georgia Gin Cocktail is perfect for summer parties and is sweet as a Georgia peach. This breezy cocktail offers a blend of peach schnapps, orange juice, and gin. Add an orange wedge or lemon peel for a refreshing cocktail. The orange juice and gin quality make a difference when making the Georgia Gin Cocktail. For a premium Georgia Gin Cocktail, pair the best gin with freshly squeezed orange juice. Commercially packaged orange juice doesn't compare to the taste you'll get from freshly squeezed orange juice.
Dorchester
The Dorchester has earned a reputation as one of the most flavor-infused cocktails. People who choose Dorchester prefer to sit back and sip their beverages slowly while enjoying each flavor. The Dorchester offers a blend of the best gin (preferably a dry gin), fresh lime juice, fresh grapefruit juice, simple syrup, and Maraschino liqueur. The ingredients are shaken vigorously for a minimum of 10 seconds and served in a chilled glass. For an even fruiter flavor profile, you can add a grapefruit garnish.
Earl Grey MarTEAni
While you can craft martinis today with gin or vodka, this version requires gin. The Earl Grey MarTEAni combines Earl Grey tea with lemon juice, simple syrup, an egg white, and of course, the best gin. This cocktail may be one of the newest on this list, created during the early 2000s at the famous Pegu Club in New York. Inspiration for the Earl Grey MarTEAni comes from a classic Gin Sour. However, you'll find that the tea does a great job at complementing the natural botanical flavor of the gin.
Frozen Gin and Tonic
If you're looking for a unique twist on the classic gin and tonic, we'd recommend trying a frozen gin and tonic. The creation process for a frozen gin and tonic is simple. Use the same ingredients for a traditional gin and tonic and blend them with a batch of ice. You can also play around with different additions or garnishes. For example, blending fresh cucumbers can give your cocktail a rustic taste. 
You can also freeze ice cubes made of gin to use with your frozen gin and tonic to avoid watering down the flavors. Choosing the best gin is key to preserving the smooth flavors of the gin and tonic in this drink.
The best gin is versatile enough to make all different types of cocktails. Whether you prefer a classic gin and tonic, or you're looking for a fruitier addition to the best gin cocktails, you are sure to find your next go-to drink on this list.
---