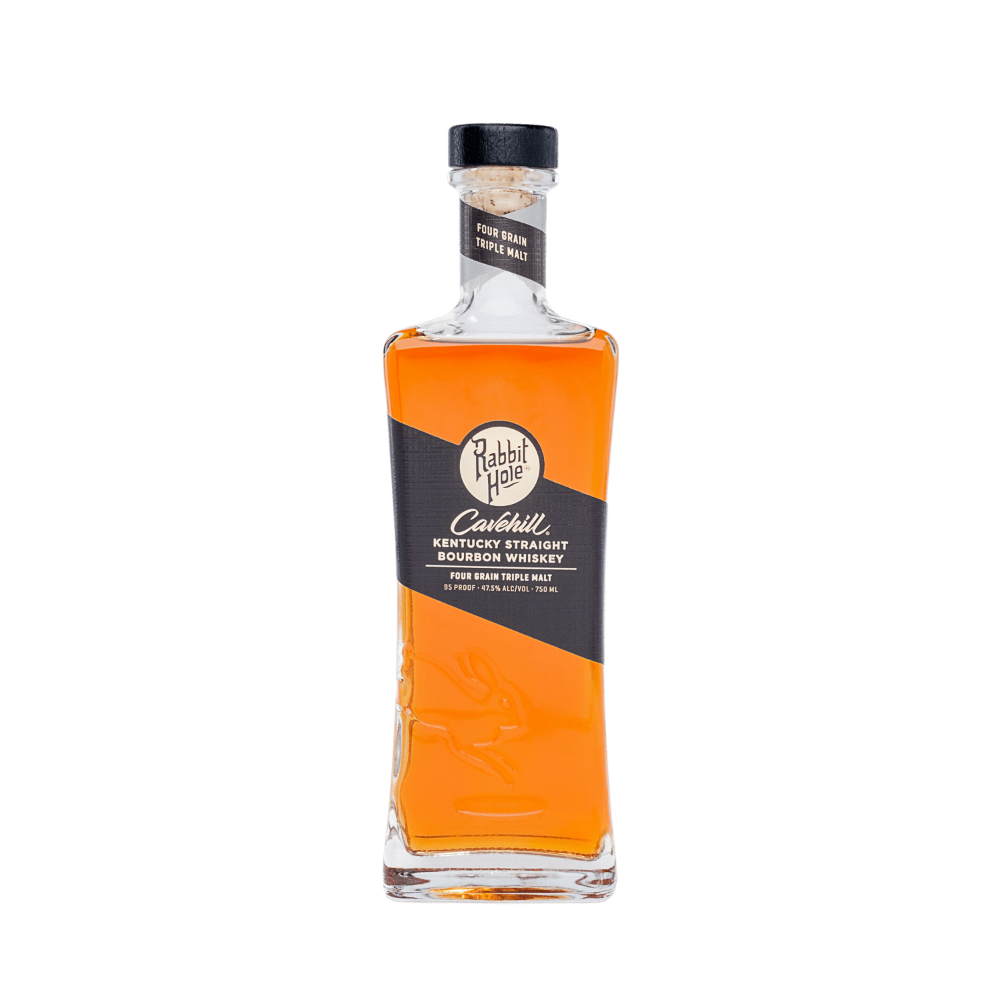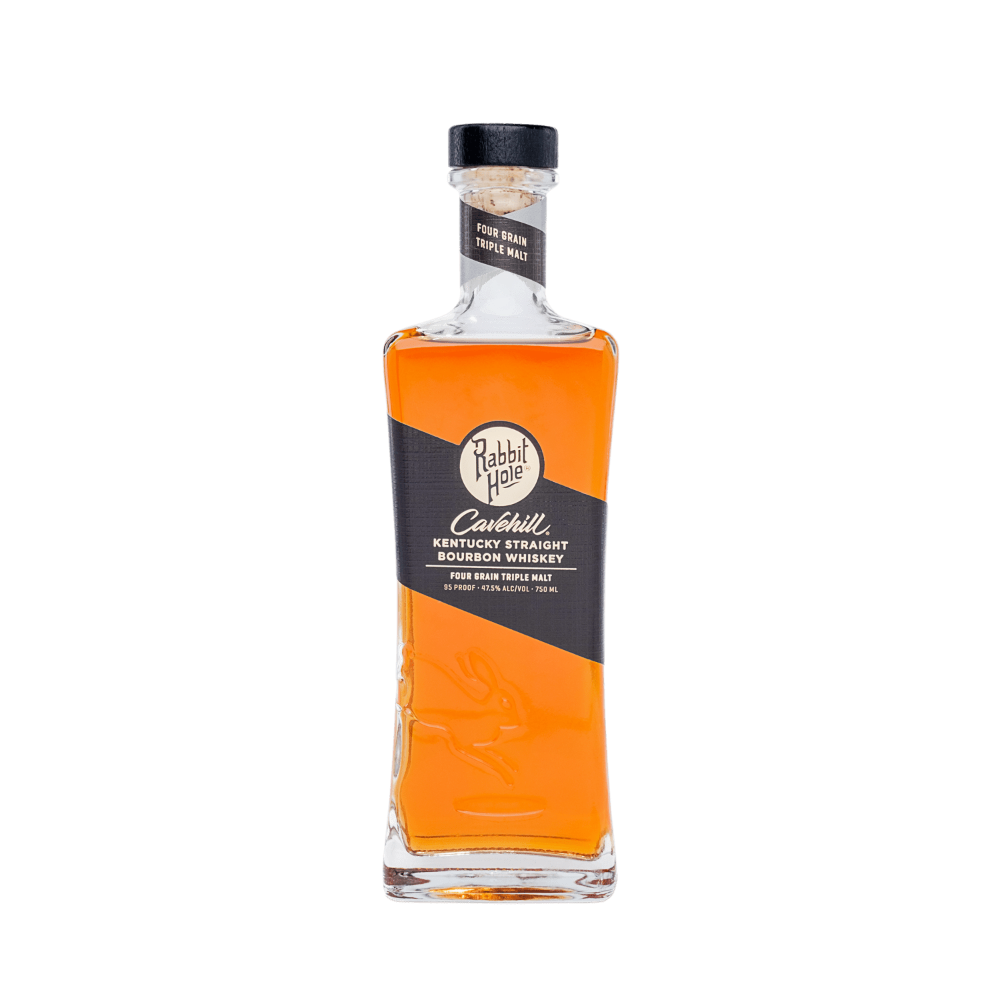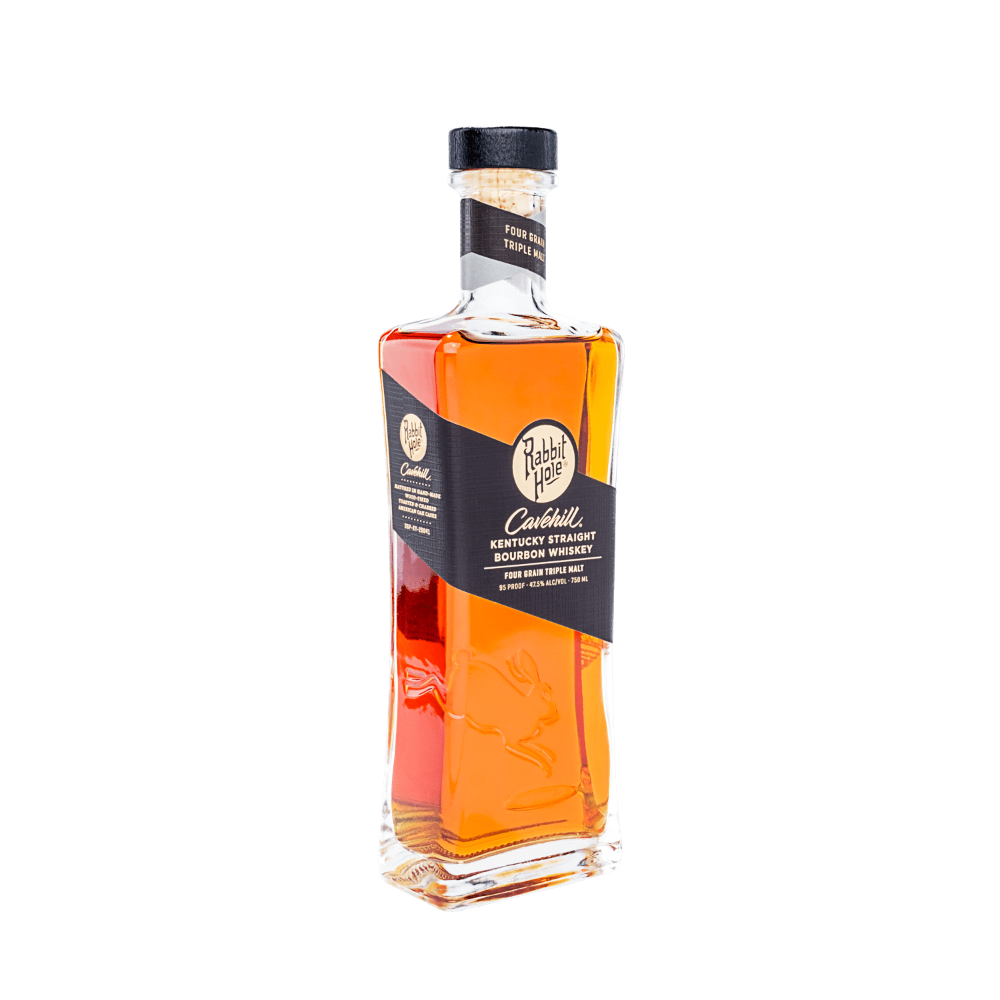 Cavehill
Kentucky Straight Bourbon Whiskey · 4-Grain
Regular price
Sale price
$64.99
Four Grain Triple-Malt Kentucky Straight Bourbon Whiskey
TASTING NOTES

The nose starts with dried red fruits, drying oak tannins, raspberry jam, and an earthy note. A palate of spiced oak, milk chocolate, caramel, white pepper, and sweet black cherry is followed by a lengthy finish of orange peel, honey, sweet lemon cake, creamy chocolate, and pepper spice. Rich flavors, creating an easy whiskey to savor. - "Whiskey Advocate"

STORY

Named after generations of proud Louisville distillers. Louisville, KY, is the home of American Distillation. In the twilight of its history, farmers of French and English descent, bubbled mixtures of yeast, water, and corn in handmade stills to make a new spirit - American Whiskey. Some of these pioneers took inspiration from French Brandy and aged their distillate in charred oak barrels creating what we know as "Bourbon" today. For the most part, these operations were just for personal consumption. However, the most daring individuals scaled their productions to a commercial level - planting the seeds from which modern whiskey making has blossomed. Cavehill Kentucky Straight Bourbon Whiskey pays homage to these proud men and women. We use their spirit and dedication as a guide to propel American Whiskey into the future.

DESCRIPTION

Our signature Four Grain Bourbon Whiskey. This marvel of modern distillation wows the senses with lovely aromas of spice and fresh apples. When sipped, you experience honey, mint, and creamy orange. As Cavehill falls to the back of your palate, it evolves into vanilla and custard. Our four-grain recipe gives this bourbon a cornucopia of flavors that are distinguishable yet lasting, no matter your style.

Toasted & Charred Barrels. Developing our super-premium whiskey takes time. We slowly toast our barrels over a wood-fired flame before charring, a process that takes up to 20 minutes per barrel. Toasting coaxes sugars from deep in the fibers of the wood which mingle with the distillate during the aging process, giving our whiskeys unparalleled complexity and flavor.

Distinct and unorthodox. Cavehill's contemporary mash bill consists of corn, malted barley, honey malted barley, and malted wheat. We take the extra care to malt all of our secondary grains to increase their depth, giving us a flavor profile like no other. We age Cavehill in hand-picked Kelvin Cooperage American White Oak Barrels. When the bourbon reaches maturity, we intimately blend a small batch of no more than 15 barrels to create the finished product.

Setting a new standard for American whiskey. Cavehill is a testament to modern whiskey making. This bourbon gives you an array of flavors due to our signature four-grain mash of corn, malted barley, honey malted barley, and malted wheat. Our Kentucky Straight Bourbon Whiskey is a love letter to our forefathers, showing not only how far American Whiskey has come, but how it continues to grow.

SPECS

PROOF 95 (47.5% ABV)
TYPE Kentucky Straight Bourbon Whiskey · 4 grain
SIZE 750ml

FOOD PAIRINGS

James Beard Foundation Chef Inspired Pairings:

Chef Inspired Pairing: Figs, cream cheese, and walnuts on toasted French bread drizzled with honey.
Additional pairings: Caramelized apples; pulled pork; and roasted potatoes



SHIPPING

Where do you deliver?

Due to Kentucky regulations, we can only ship to the following states: Alaska, Kentucky, Nebraska, Nevada and Washington D.C. If you're not in one of the following states - follow this link for more delivery options.

Where do you ship from?

At this time, we ship straight to you from our downtown Louisville, KY distillery.

When will my order arrive?

We generally require 1-2 business days to prepare your shipment. Shipping times vary according to your delivery address and availability of the ordered items. UPS ground shipping will deliver in approximately 3-5 business days depending on distance from our Louisville, KY distillery.


CURRENTLY CAN'T SHIP TO: AZ, HI, MA, MI, TN, UT
State not listed? Click here for more delivery options.
You May Also Like
You may also like