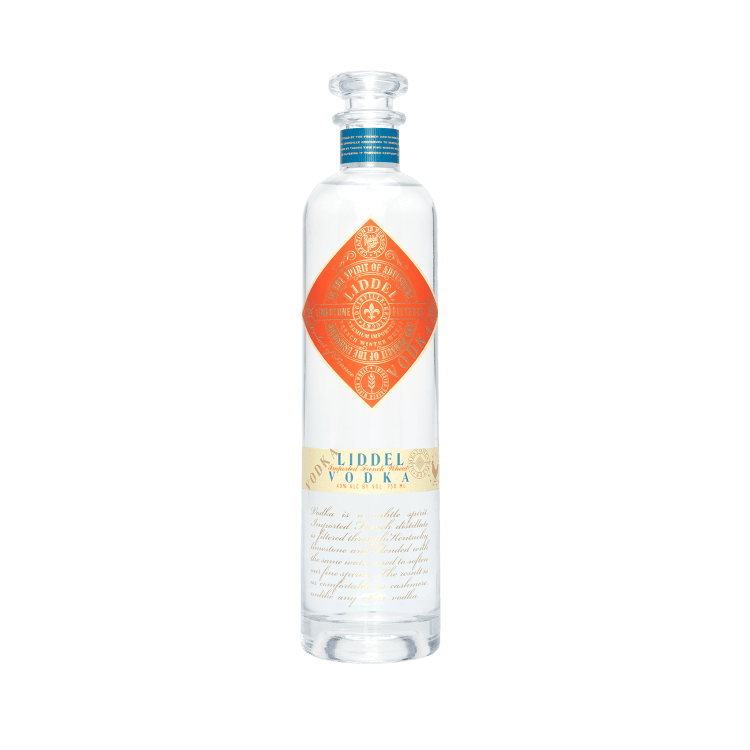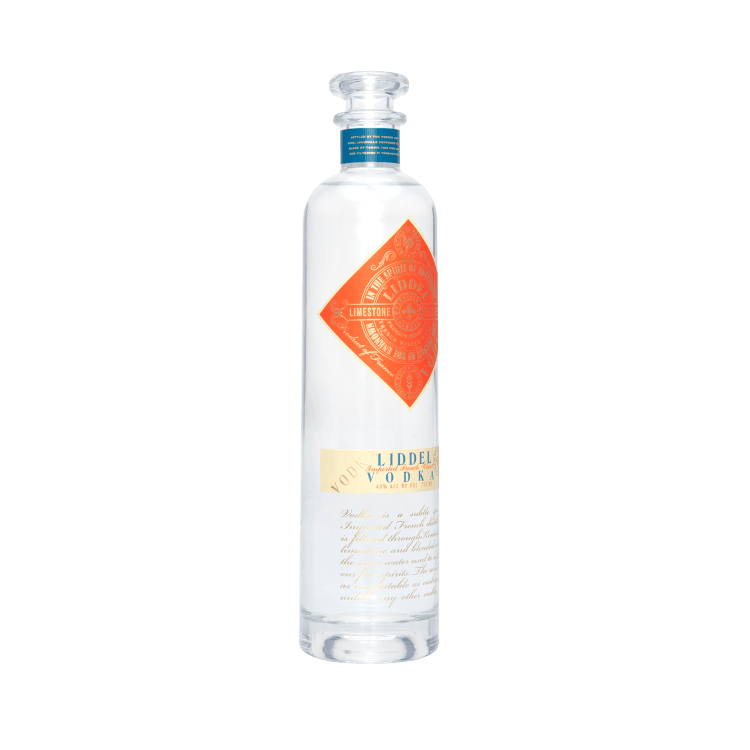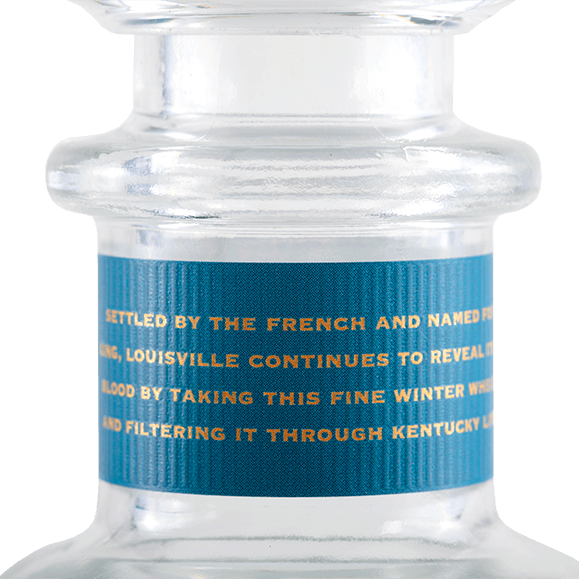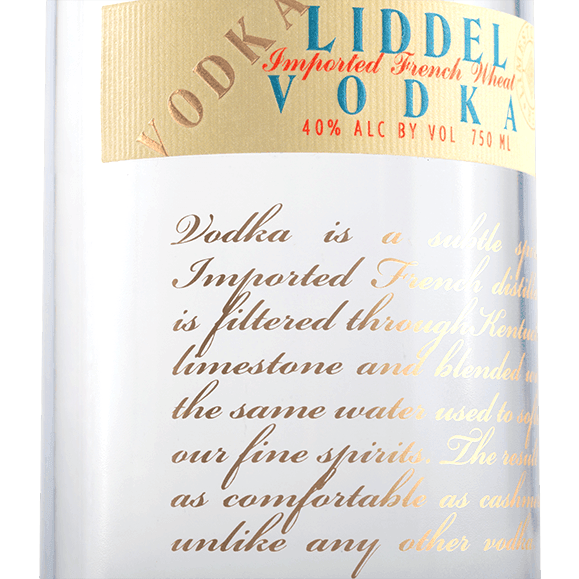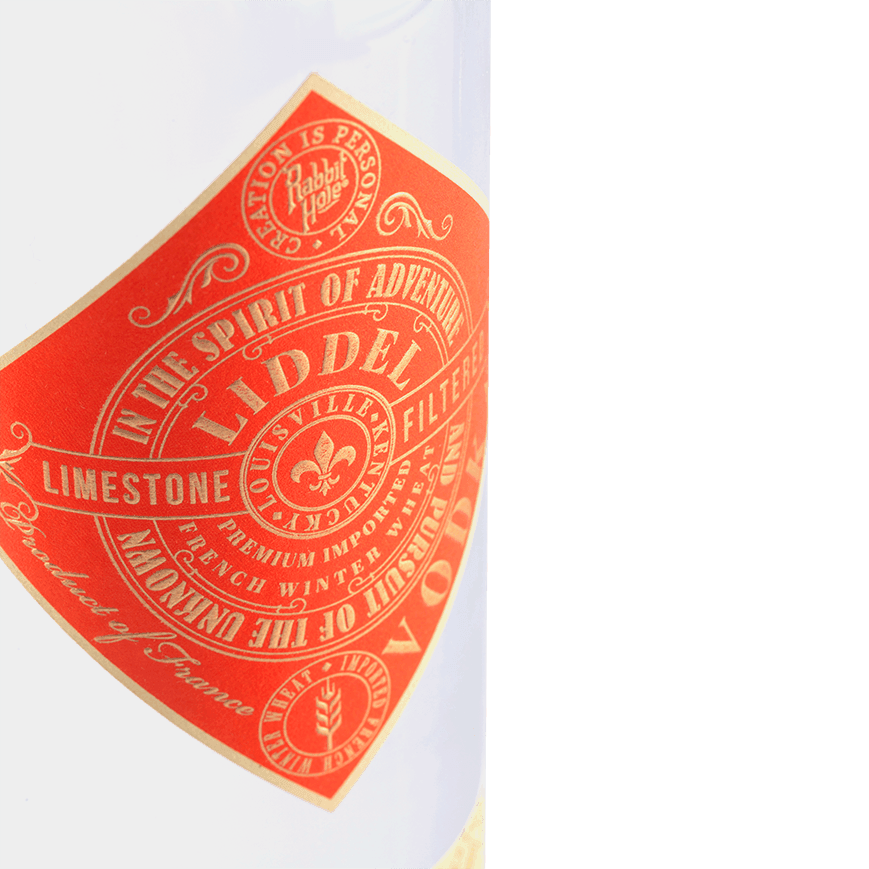 Liddel
French Wheat Vodka filtered through Kentucky Limestone
Regular price
Sale price
$34.99
French Winter Wheat Vodka filtered through Kentucky Limestone
TASTING NOTES

TASTING NOTES:
Aroma: Clean; Hint of citrus
Palate: Light anise; Smooth Rounded
Mouthfeel: Finish; Buttery finish

STORY

Great things happen when we come together. We are social beings, and we are strongest together. This sentiment can be easy to forget while in the pursuit of our personal adventures. Liddel is a testament to togetherness, bringing two cultures separated by thousands of miles together in one bottle to create a one-of-a-kind spirit. A taste of Kentucky and France existing as one in your glass.

DESCRIPTION

Filtered through Kentucky Limestone. Limestone is the earth's greatest filtration system. We use it to purify the water used in every whiskey in our line. Vodka is a spirit praised for its cleanliness in appearance, aroma, and palate. Instead of trying to achieve this with excessive distillations, which tends to strip much of the redeeming qualities from the spirit, we import premium French Winter Wheat Vodka and filter it in entirety through Kentucky limestone. This process gives Liddel an unparalleled mouthfeel while showcasing the magic of Kentucky.

SPECS

PROOF  80 (40.0% ABV)
TYPE  French wheat vodka filtered through Kentucky limestone
SIZE  750ml

SHIPPING

Where do you deliver?

Due to Kentucky regulations, we can only ship to the following states: Alaska, Kentucky, Nebraska, Nevada and Washington D.C. If you're not in one of the following states - follow this link for more delivery options.

Where do you ship from?

At this time, we ship straight to you from our downtown Louisville, KY distillery.

When will my order arrive?

We generally require 1-2 business days to prepare your shipment. Shipping times vary according to your delivery address and availability of the ordered items. UPS ground shipping will deliver in approximately 3-5 business days depending on distance from our Louisville, KY distillery.

Can I check my order and shipping status?

After your order is confirmed, we will send a follow-up email that includes order tracking information.

Is there anything else I should know regarding my shipment?

You must be of legal drinking age in your country to purchase alcoholic beverages. All orders must be received and signed for by an adult. By placing your order, you represent that you are of legal drinking age, and the person to whom your spirits will be delivered is also of legal drinking age. When your spirits are delivered, the person receiving delivery will be required to show identification.
As orders are typically delivered during business hours, we strongly encourage you to ship to an address to ensure someone is present to sign.

Shipping Costs

Shipping is FREE on orders over $250
All other shipping costs are calculated based on UPS rates - determined by shipping weight and location. Final shipping cost displayed during checkout.

CONTACT

Need help?

Emil shop@rabbitholedistillery.com and someone on our team will respond shortly!
AVAILABLE IN: AK, KY, NE, NH, ND, DC
State not listed? Click here for more delivery options.
You May Also Like
You may also like