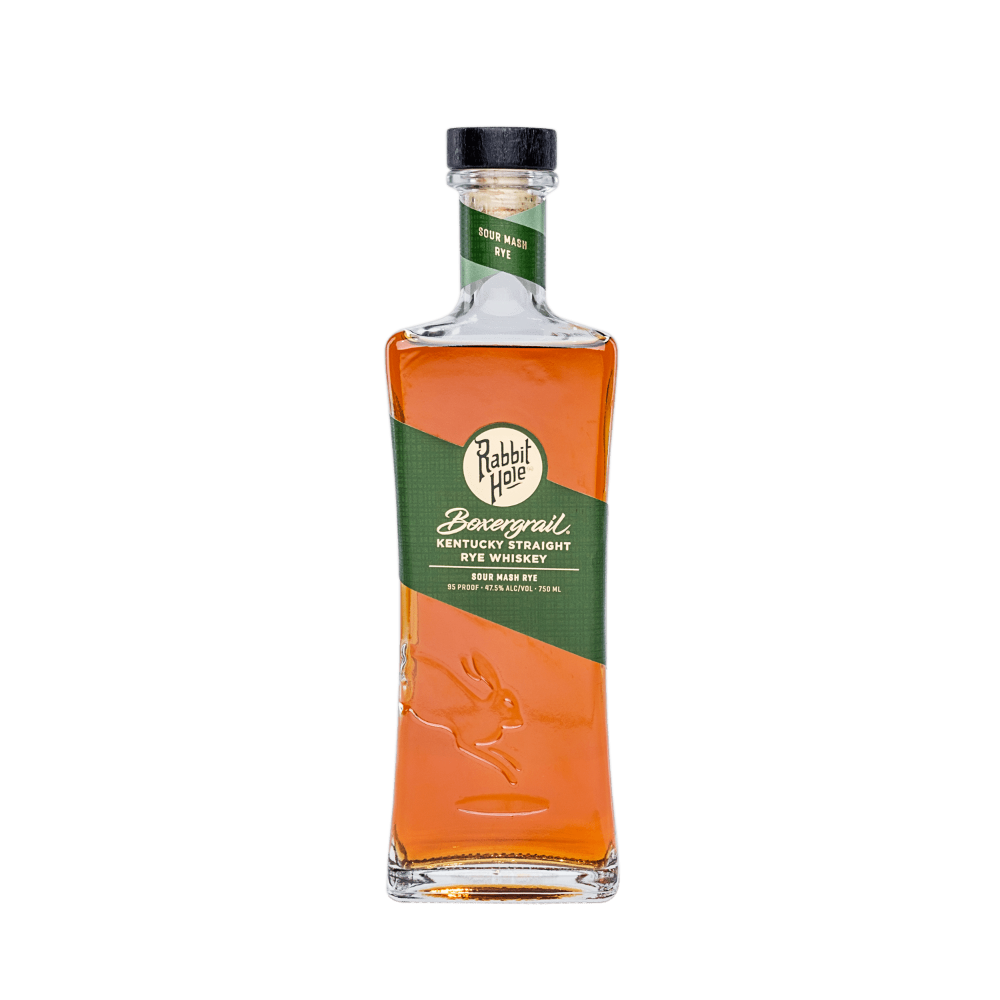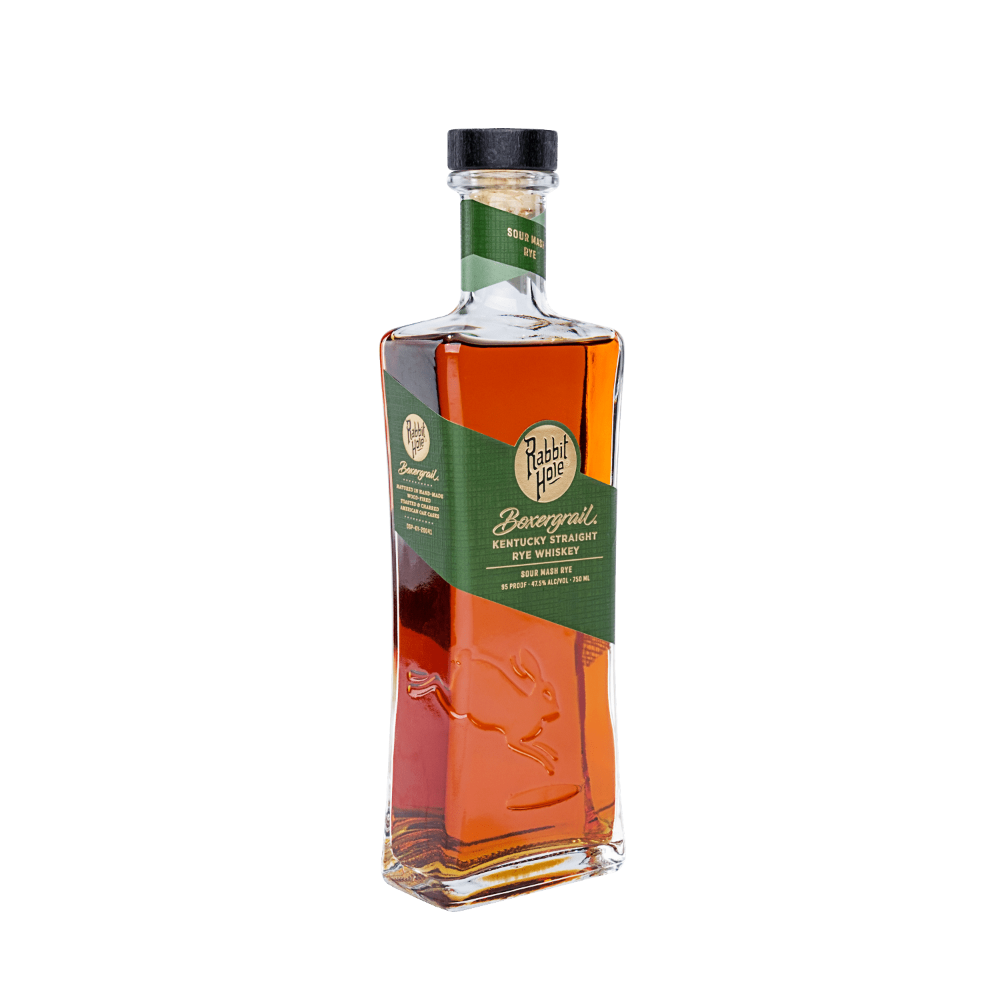 Boxergrail
Kentucky straight rye whiskey
Regular price
Sale price
$53.99
Kentucky Straight Rye Whiskey - Rabbit Hole Distillery
TASTING NOTES

The nose reveals lovely aromatics of kiwi, grapefruit, mango, banana, hibiscus, lilac, and pistachio. This light sweetness is borne out on the palate, which has tropical fruits, chai masala, brown sugar, rye bread, and a little nuttiness counterbalancing sharp oak and a full-bodied mouthfeel. The finish is short, with honeyed sweetness. - "Whiskey Advocate"

STORY

Boxergrail celebrates Louisville's rich boxing heritage. Louisville has a fighting spirit fueled by the local boxing culture. Gyms sprinkled in neighborhoods across the city take raw local talent and refine it, turning "average joes" into prizefighting world champions. Boxergrail is a lively, sophisticated Kentucky Straight Rye Whiskey that's inspired by these masters of the ring.

DESCRIPTION

Our Straight Rye Whiskey. Boxergrail is a Kentucky Straight Rye in a class of its own. This premium American Whiskey boasts a lavish bouquet of spice and butterscotch. When imbibed, you taste flavors of citrus and black tea, giving this rye a perfect balance of sweet and spice. The depth of flavor found in this rye can be enjoyed neat or on the rocks. However, if you are a fan of classic cocktails, our Boxegrail Old Fashioned is a knockout.

Toasted & Charred Barrels. Developing our super-premium whiskey takes time. We slowly toast our barrels over a wood-fired flame before charring, a process that takes up to 20 minutes per barrel. Toasting coaxes sugars from deep in the fibers of the wood which mingle with the distillate during the aging process, giving our whiskeys unparalleled complexity and flavor.

Only two grains in this mash bill. Unlike our other expressions, the mash for Boxergrail only contains two grains: rye and malted barley. Rye takes up a majority of the mash with the malted barley acting as a "flavoring grain" - giving our whiskey a velvety mouthfeel. We brew the mash using our signature cooking process, giving us the most flavorful base possible. We run the mash through our handcrafted, one-of-a-kind Vendome Copper still and proof it with Kentucky's Limestone abundant water before barreling. We mature Boxergrail in hand-selected American White Oak barrels from Kelvin Cooperage. To ensure all of our love and care in the whiskey-making process shows in the finished product, we forgo chill filtering.

Bold and unexpected. Crafted with the eye of a prizefighter, Boxergrail is a robust Kentucky Straight Rye Whiskey that dances across the palate. The one-two punch of butterscotch and spice this whiskey delivers puts it in a class of its own. So grab a glass and experience why this rye has been heralded as a champion.

SPECS

PROOF  95 (47.5% ABV)
TYPE  Kentucky Straight Rye Whiskey
SIZE  750ml

FOOD PAIRINGS

James Beard Foundation Chef Inspired Pairings:

Chef Inspired Pairing: Prosciutto with mozzarella di bufala, ricotta, pecorino romano, and Grana Padano.
Additional pairings: Zucchini bread; pork ribs; and cured meats



SHIPPING

Where do you deliver?

Due to Kentucky regulations, we can only ship to the following states: Alaska, Kentucky, Nebraska, Nevada and Washington D.C. If you're not in one of the following states - follow this link for more delivery options.

Where do you ship from?

At this time, we ship straight to you from our downtown Louisville, KY distillery.

When will my order arrive?

We generally require 1-2 business days to prepare your shipment. Shipping times vary according to your delivery address and availability of the ordered items. UPS ground shipping will deliver in approximately 3-5 business days depending on distance from our Louisville, KY distillery.

Can I check my order and shipping status?

After your order is confirmed, we will send a follow-up email that includes order tracking information.

Is there anything else I should know regarding my shipment?

You must be of legal drinking age in your country to purchase alcoholic beverages. All orders must be received and signed for by an adult. By placing your order, you represent that you are of legal drinking age, and the person to whom your spirits will be delivered is also of legal drinking age. When your spirits are delivered, the person receiving delivery will be required to show identification.
As orders are typically delivered during business hours, we strongly encourage you to ship to an address to ensure someone is present to sign.

Shipping Costs

Shipping is FREE on orders over $250
All other shipping costs are calculated based on UPS rates - determined by shipping weight and location. Final shipping cost displayed during checkout.

CONTACT

Need help?

Emil shop@rabbitholedistillery.com and someone on our team will respond shortly!
CURRENTLY CAN'T SHIP TO: AZ, HI, MA, MI, TN, UT
State not listed? Click here for more delivery options.
You May Also Like
You may also like