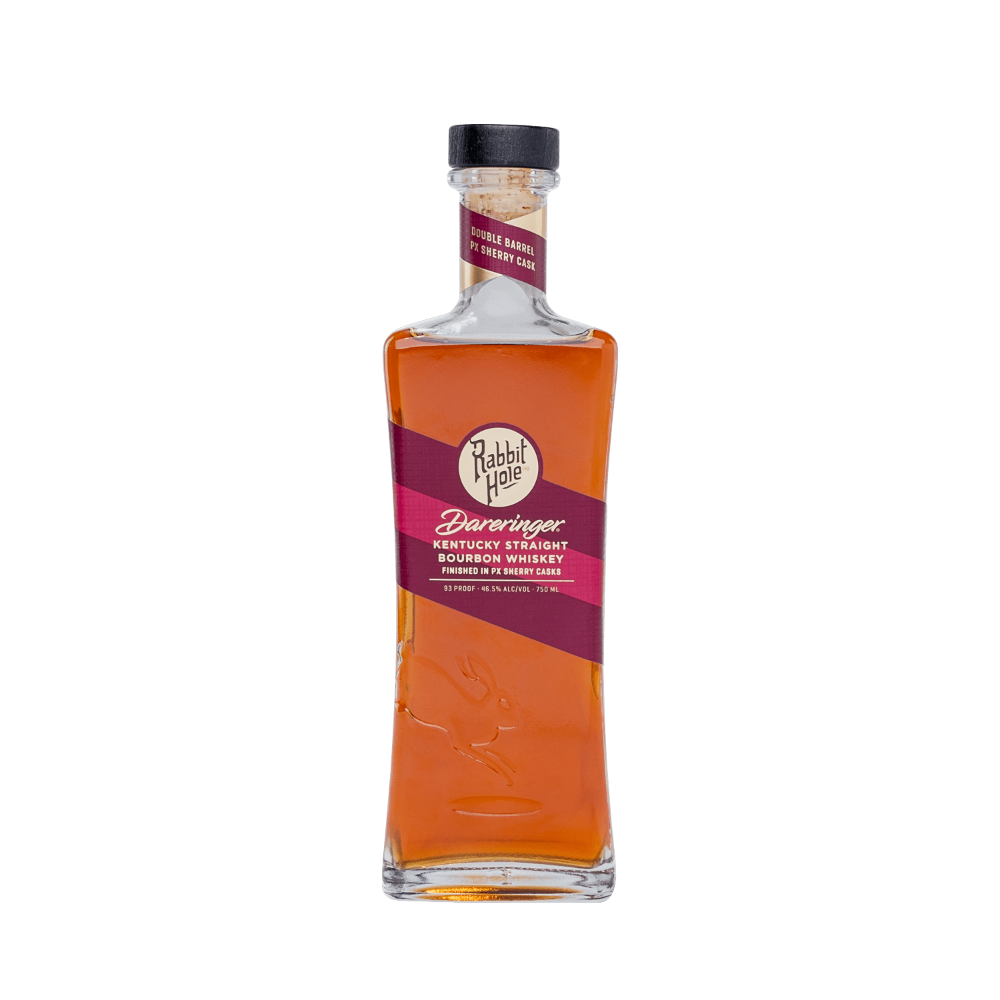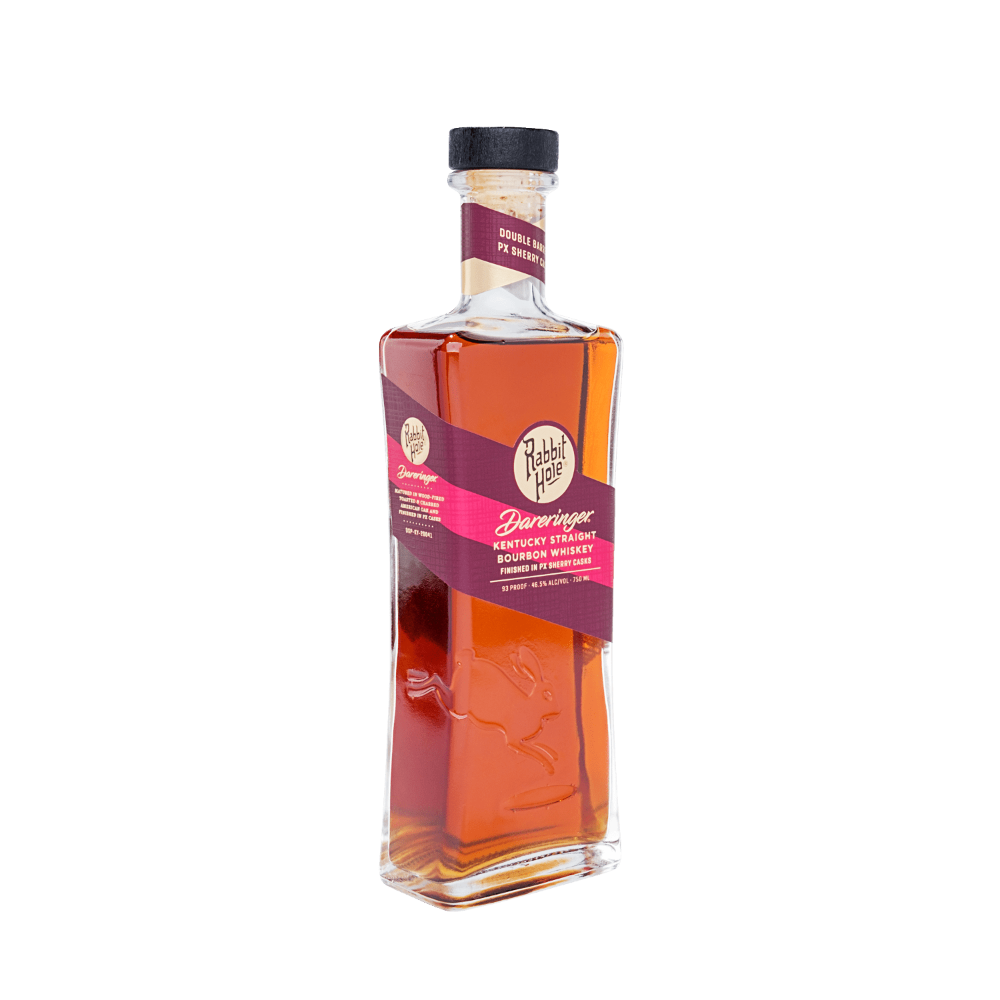 Dareringer
Straight bourbon whiskey finished in px sherry casks
Regular price
Sale price
$86.99
Straight Bourbon Whiskey finished in PX Sherry Casks
"25 Best Bourbons of the 21st Century" - Robb Report
TASTING NOTES

A potpourri of herbs, dried flowers, licorice, candied lemon peel, baklava, and furniture polish on the nose. The palate shows some minerality and is a bit bitter, but has prominent blueberry, grape, and boysenberry flavors, along with licorice, coriander seed, mint, and oak spice. It finishes with dark fruit, menthol, licorice, roasted nuts, and plenty of oak. Takes water well. - "Whiskey Advocate"

STORY

Born from Romance: Our Sherry Cask Finished Bourbon is inspired by the wife of our founder, Kaveh Zamanian. Elegant, sweet, and charming, she is the muse behind our brand. A Louisville native, she helped Kaveh fall in love with bourbon, luring him away from his beloved scotch. This simple act of affection evolved into a passion for creating whiskey and led him down a rabbit hole he may have never dared alone.

DESCRIPTION

Inviting to the Senses. Dareringer is perfectly sweet with the smallest kiss of spice. This charming whiskey invites you in with an intoxicating nose of sherry and cherry. On the palate, Dareringer displays elegant flavors of raisins and currants coupled with hints of almond and vanilla. The layers and complexity of this modern whiskey will have you falling in love, whether neat or in a cocktail.

Toasted & Charred Barrels: Developing our super-premium whiskey takes time. We slowly toast our barrels over a wood-fired flame before charring, a process that takes up to 20 minutes per barrel. Toasting coaxes sugars from deep in the fibers of the wood which mingle with the distillate during the aging process, giving our whiskeys unparalleled complexity and flavor.

Rested in Hand-Made PX Sherry Casks from Spain. This super-premium Straight Bourbon Whiskey is carefully crafted by taking fine wheated bourbon aged in alligator char barrels and resting it in hand-made Pedro Ximenez Sherry Casks from Spain's renown Casknolia Cooperage. We then intimately blend no more than fifteen barrels to produce our desired flavor profile - a true small batch. Every step we take in our whiskey-making process is intentional. When a spirit is made with this kind of love there's nothing to hide, so we forgo any chill filtering. The omission of this process gives this 93 proof whiskey the most authentic barrel to bottle flavor in the market.

An Unmistakably Balanced Expression. We created Dareringer as an expression of our passion for whiskey and redefining what it can be. Resting this Straight Bourbon Whiskey in Pedro Ximenez Sherry Casks results in an unmistakably balanced expression that blends modern and traditional whiskey making. An entrancing spirit, Dareringer lures you with flavors that please every palate from the novice to the whiskey purest.

SPECS

PROOF  93 (46.5% ABV)
TYPE  Straight bourbon whiskey finished in PX sherry casks
SIZE  750ml

FOOD PAIRINGS

James Beard Foundation Chef Inspired Pairings:

Chef Inspired Pairing: Strawberry macaroons and dark chocolate.
Additional pairings: Candied nuts; banana bread; and cheesecake.



SHIPPING

Where do you deliver?

Due to Kentucky regulations, we can only ship to the following states: Alaska, Kentucky, Nebraska, Nevada and Washington D.C. If you're not in one of the following states - follow this link for more delivery options.

Where do you ship from?

At this time, we ship straight to you from our downtown Louisville, KY distillery.

When will my order arrive?

We generally require 1-2 business days to prepare your shipment. Shipping times vary according to your delivery address and availability of the ordered items. UPS ground shipping will deliver in approximately 3-5 business days depending on distance from our Louisville, KY distillery.

Can I check my order and shipping status?

After your order is confirmed, we will send a follow-up email that includes order tracking information.

Is there anything else I should know regarding my shipment?

You must be of legal drinking age in your country to purchase alcoholic beverages. All orders must be received and signed for by an adult. By placing your order, you represent that you are of legal drinking age, and the person to whom your spirits will be delivered is also of legal drinking age. When your spirits are delivered, the person receiving delivery will be required to show identification.
As orders are typically delivered during business hours, we strongly encourage you to ship to an address to ensure someone is present to sign.

Shipping Costs

Shipping is FREE on orders over $250
All other shipping costs are calculated based on UPS rates - determined by shipping weight and location. Final shipping cost displayed during checkout.

CONTACT

Need help?

Emil shop@rabbitholedistillery.com and someone on our team will respond shortly!
CURRENTLY CAN'T SHIP TO: AZ, HI, MA, MI, TN, UT
State not listed? Click here for more delivery options.
You May Also Like
You may also like