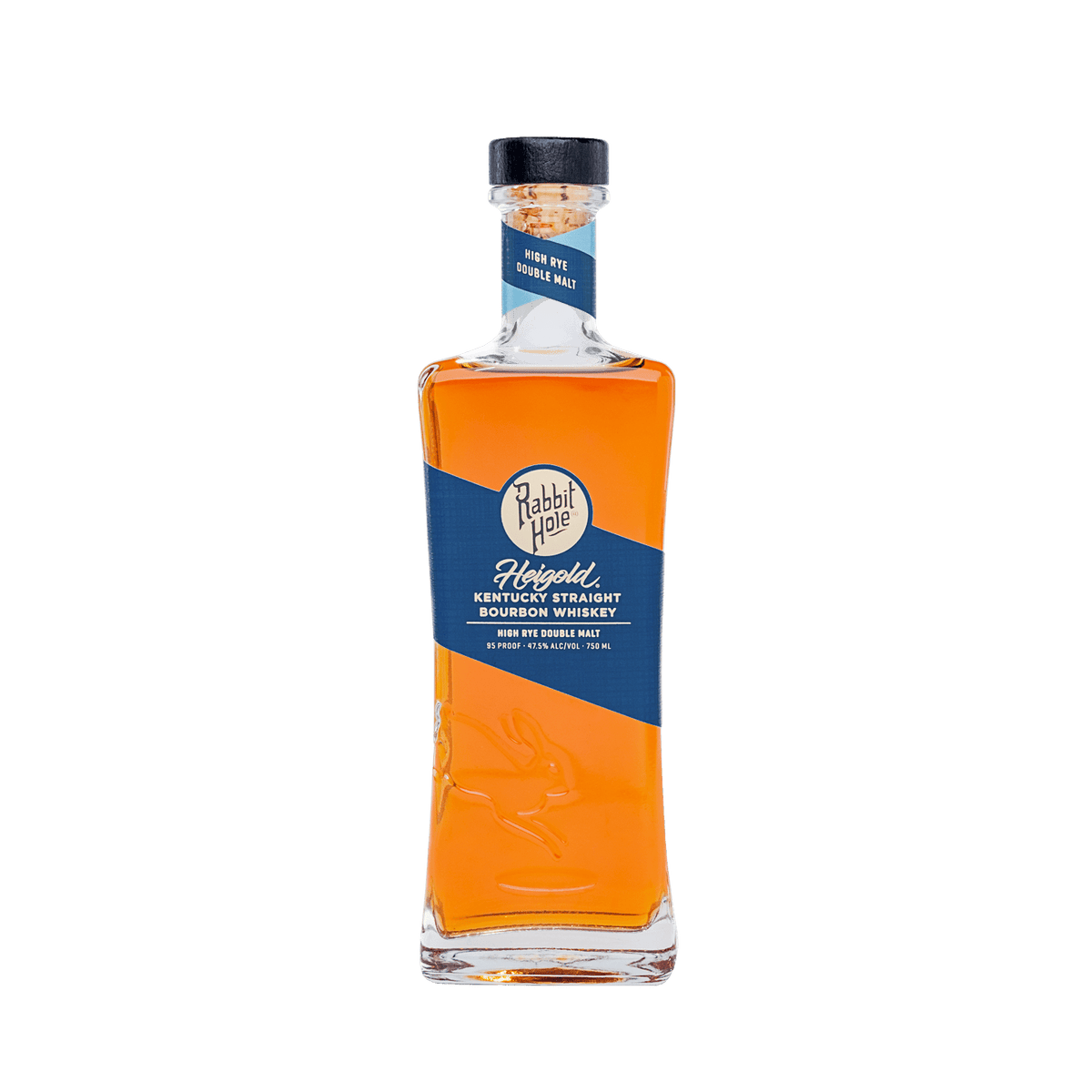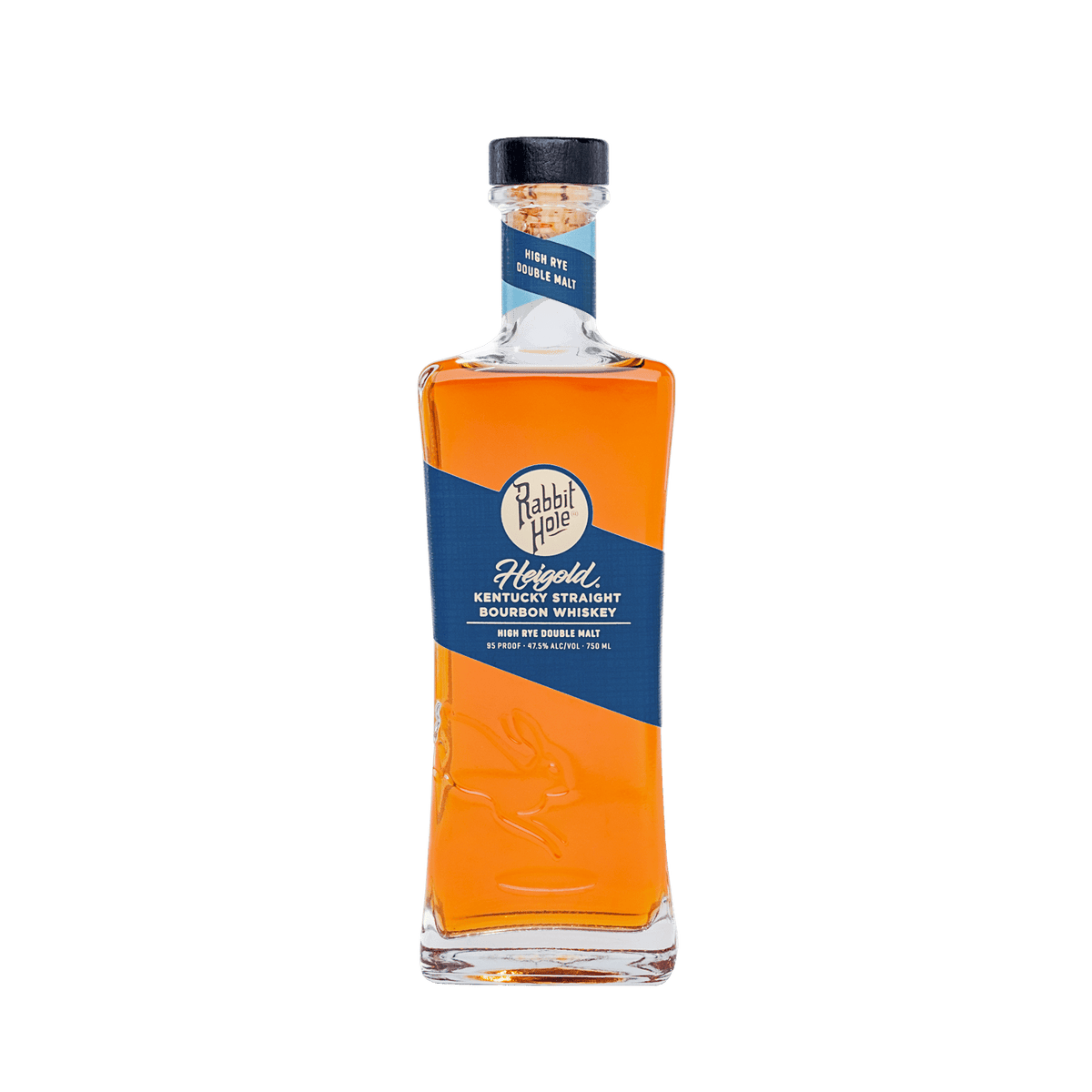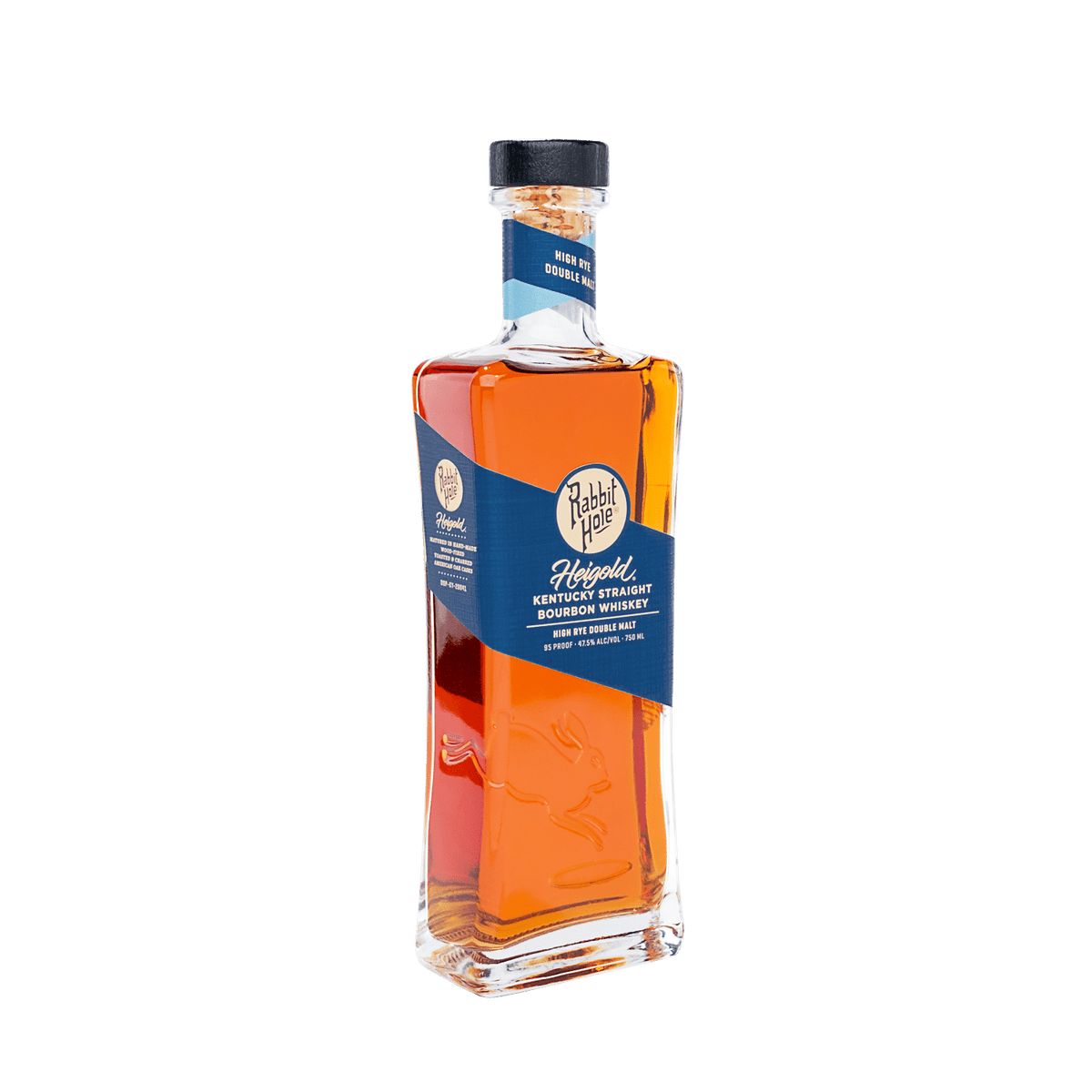 Heigold
kentucky straight bourbon whiskey · high-rye
Regular price
Sale price
$64.99
High Rye Double Malt Kentucky Straight Bourbon Whiskey - Rabbit Hole Distillery
TASTING NOTES

Aromas of root beer, cooked cherries, candied orange, licorice, cloves, iced tea, spearmint, marshmallow Peeps, and a hint of varnish. The palate is chewy and full, with flavors tumbling over each other in a rush: orange, cinnamon, clove, licorice, horehound, oak, almonds, vanilla cream, and a bit of herbaceousness. It finishes dry, with bright fruit, cedary oak, cinnamon, and almonds. - "Whiskey Advocate"

STORY

Paying tribute to Christian Heigold. The motivating forces behind Rabbit Hole and a man named Christian Heigold are one in the same: to use nature, spontaneity, and imagination to create works of art that inspire others. Heigold, a German immigrant, took a leap of faith and settled in the rolling, stone-abundant hills of Louisville, Kentucky in the 1840s. His profession made him a natural resident of the state, as he was a trained stonecutter who, through his art, quickly became known for his ingenuity and allegiance to the United States. Heigold spent no time resting when adjusting to his new life; he immediately invested time into building his manor house where he used his skills to carve beautiful renditions of his family, American heroes, and symbols of patriotism.

DESCRIPTION

The newest addition to our family of American Whiskeys. Heigold is a Kentucky Straight Bourbon Whiskey made with a high percentage of rye. It lures you in with a beautiful aroma of toasted malt and warm baking spices. On the pallet, Heigold opens with silky butterscotch and hints of bright citrus finishing with a thrilling crescendo of pepper spice. While great neat or on the rocks, a high proof of 95 allows Heigold's bold flavors to shine in any cocktail.

Toasted & Charred Barrels: Developing our super-premium whiskey takes time. We slowly toast our barrels over a wood-fired flame before charring, a process that takes up to 20 minutes per barrel. Toasting coaxes sugars from deep in the fibers of the wood which mingle with the distillate during the aging process, giving our whiskeys unparalleled complexity and flavor.

Strong and Bold. The uniqueness of this Bourbon starts with mash consisting of corn, malted German rye, and malted barley. Once distilled, we proof the new make down to 110 before barreling. This produces a rich, decadent bourbon void of harsh flavors or burn. We mature the distillate for 3 years in toasted and charred American White Oak barrels crafted by Kelvin Cooperage. The process of toasting before charring is a modern approach to barrel making, allowing deeper whiskey absorption into the barrel which gives this bourbon its deep flavor and caramel color.

Made with a high percentage of imported German rye. Named after a German immigrant stonecutter from the 1800s, Rabbit Hole Heigold Bourbon is inspired by the adventures, innovators, and creators who built the foundation of the country we love. We start with a unique mash bill of corn, malted German rye, and malted barley to give this bourbon a base of southern sweetness layered with light notes of white pepper. It is then barreled in charred American White Oak and mellowed in the sweltering summers and frigid winters of Kentucky for over 3 years. Infusing flavors of butterscotch and baking spices, our selective aging process allows for Heigold to mature into a deep caramel hue - a signature of our brand. To be enjoyed neat, on the rocks or in a cocktail, our Heigold Bourbon is the distilled essence of the American dream — demanding your attention with each sip.

SPECS

PROOF  95 (47.5% ABV)
TYPE  Kentucky Straight Bourbon Whiskey · High Rye
SIZE  750ml

FOOD PAIRINGS

James Beard Foundation Chef Inspired Pairings:

Chef Inspired Pairing: Grilled chicken skewers sprinkled with sea salt and chives with roasted scallops.
Additional pairings: Butternut squash ravioli; coconut shrimp; and roasted sweet potatoes.



SHIPPING

Where do you deliver?

Due to Kentucky regulations, we can only ship to the following states: Alaska, Kentucky, Nebraska, Nevada and Washington D.C. If you're not in one of the following states - follow this link for more delivery options.

Where do you ship from?

At this time, we ship straight to you from our downtown Louisville, KY distillery.

When will my order arrive?

We generally require 1-2 business days to prepare your shipment. Shipping times vary according to your delivery address and availability of the ordered items. UPS ground shipping will deliver in approximately 3-5 business days depending on distance from our Louisville, KY distillery.

Can I check my order and shipping status?

After your order is confirmed, we will send a follow-up email that includes order tracking information.

Is there anything else I should know regarding my shipment?

You must be of legal drinking age in your country to purchase alcoholic beverages. All orders must be received and signed for by an adult. By placing your order, you represent that you are of legal drinking age, and the person to whom your spirits will be delivered is also of legal drinking age. When your spirits are delivered, the person receiving delivery will be required to show identification.
As orders are typically delivered during business hours, we strongly encourage you to ship to an address to ensure someone is present to sign.

Shipping Costs

Shipping is FREE on orders over $250
All other shipping costs are calculated based on UPS rates - determined by shipping weight and location. Final shipping cost displayed during checkout.

CONTACT

Need help?

Emil shop@rabbitholedistillery.com and someone on our team will respond shortly!
CURRENTLY CAN'T SHIP TO: AZ, HI, MA, MI, TN, UT
State not listed? Click here for more delivery options.
You May Also Like
You may also like