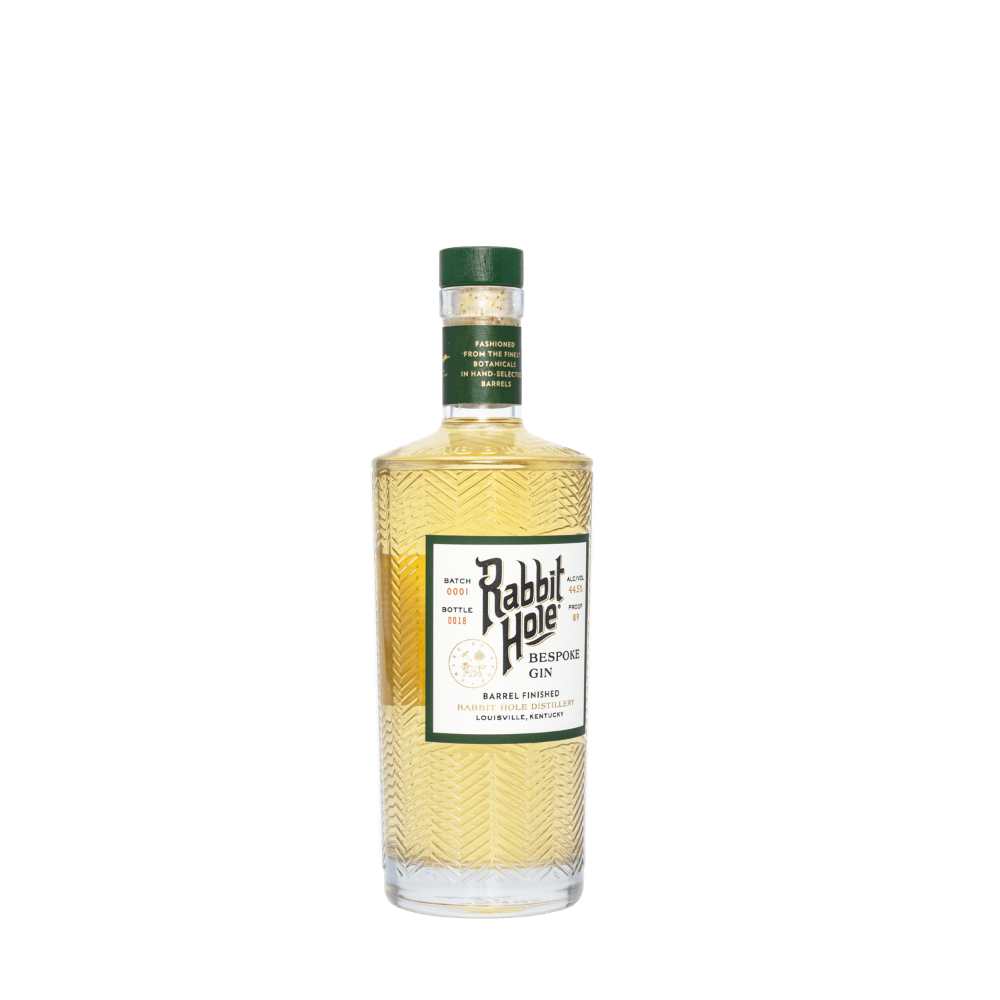 Bespoke Gin
London Dry Gin finished in Whiskey Barrels
Regular price
Sale price
$49.99
London Dry Gin finished in Kentucky Rye Barrels  Rabbit Hole Distillery
TASTING NOTES

TASTING NOTES:
Aroma: Citrus; Honeysuckle; Elderflower; Hint of Nutmeg Palate: Lemongrass; Soft mouthful; Creamy mouthfeel Mouthfeel: Honey Ginger

STORY

The Barrel Matters. Barrels make a difference. Ours are crafted from new American Oak then Toasted and Charred with wood-fired furnaces by our partners at Kelvin Cooperage. We first age our Best-in-Class Rye Whiskey in these barrels, then after harvesting it, fill them with the finest London Dry Gin where it rests and gains its signature light honey hue.

DESCRIPTION

One Barrel. Two Distinct Spirits. Our Bespoke Gin is a reimagined classic. Fashioned in Kentucky Rye Barrels, it offers a new experience that awakens the senses. We start by importing the finest London Dry Gin then finish it in the same hand-selected barrels we use to age our award-winning Kentucky Straight Rye Whiskey, Boxergrail. This process mellows the gin and adds a hint of spice while tinting this luxurious spirit with an eye-catching hue that shimmers gold in your glass.

But before you sip our Bespoke Gin, a word of advice: let go. Let go of everything you know about gin and allow yourself to be fully immersed in all the wonders of this one-of-a-kind spirit. Aromas of citrus, honeysuckle and elderflower evoke Kentucky rick houses in the summer, while notes of juniper, nutmeg, and lemongrass bring you to London in the spring. Coupled with a bespoke bottle suited for any occasion, this gin is smooth enough to be sipped neat, but equally fit for your own distinct cocktails.

SPECS

PROOF    89 (44.5% ABV)
TYPE   London dry gin finished in whiskey barrels
SIZE   750ml

SHIPPING

Where do you deliver?

Due to Kentucky regulations, we can only ship to the following states: Alaska, Kentucky, Nebraska, Nevada and Washington D.C. If you're not in one of the following states - follow this link for more delivery options.

Where do you ship from?

At this time, we ship straight to you from our downtown Louisville, KY distillery.

When will my order arrive?

We generally require 1-2 business days to prepare your shipment. Shipping times vary according to your delivery address and availability of the ordered items. UPS ground shipping will deliver in approximately 3-5 business days depending on distance from our Louisville, KY distillery.

Can I check my order and shipping status?

After your order is confirmed, we will send a follow-up email that includes order tracking information.

Is there anything else I should know regarding my shipment?

You must be of legal drinking age in your country to purchase alcoholic beverages. All orders must be received and signed for by an adult. By placing your order, you represent that you are of legal drinking age, and the person to whom your spirits will be delivered is also of legal drinking age. When your spirits are delivered, the person receiving delivery will be required to show identification.
As orders are typically delivered during business hours, we strongly encourage you to ship to an address to ensure someone is present to sign.

Shipping Costs

Shipping is FREE on orders over $250
All other shipping costs are calculated based on UPS rates - determined by shipping weight and location. Final shipping cost displayed during checkout.

CONTACT

Need help?

Emil shop@rabbitholedistillery.com and someone on our team will respond shortly!
AVAILABLE IN: AK, KY, NE, NH, ND, DC
State not listed? Click here for more delivery options.
You May Also Like
You may also like