10 OF THE BEST
VODKA COCKTAILS
Vodka by itself offers a clean, smooth flavor. It pairs perfectly with many other ingredients to create the best vodka cocktails. Whether looking for the perfect holiday cocktail or your go-to drink, we have compiled a list of the best vodka cocktails for you to sip and savor...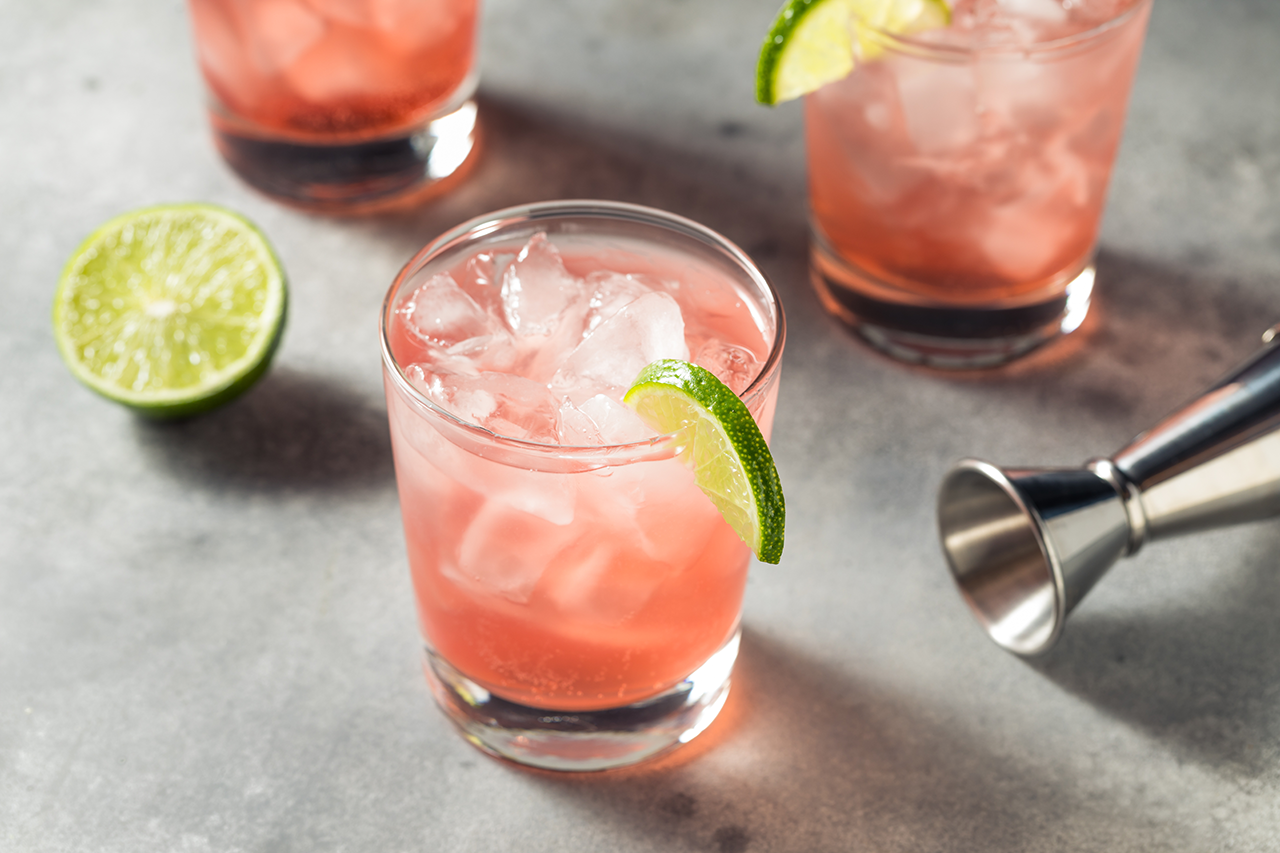 Vodka Gimlet
The vodka gimlet is a more sophisticated version of the classic gin gimlet. Traditionally, gin forms the base of the gimlet, but using vodka instead gives it a smoother flavor. This simple recipe includes vodka, simple syrup, and lime. The simple syrup and lime juice add the right flavor to your favorite vodka, making the vodka gimlet a drink you'll never get bored of drinking. Order the vodka gimlet straight to taste the pure flavor profile of the best vodka or on the rocks for a chilled, more refreshing twist.
Vodka Bellini
Have you ever sipped a Vodka Bellini, a unique twist on the classic mimosa? A Vodka Bellini adds vodka to the Champagne-infused cocktail for a refreshing and light drink you can enjoy all day long. It includes peach puree and chilled prosecco for a celebration-worthy cocktail. Top it off with a few fresh mint leaves and peach slices for a fruity concoction. We often recommend the Vodka Bellini when you need something more substantial than a breakfast mimosa. The Vodka Bellini is a great drink to enjoy mid-afternoon for a hydrating pick-me-up.
Vodka Tonic
The vodka tonic is a smooth, satisfying variation of the classic gin and tonic made using vodka, tonic water, and an optional squeeze of lime and lemon. With so few ingredients in a vodka tonic, it's essential to choose the right vodka. The best vodka will give you a cocktail that's smooth and clean with the potential of becoming your favorite beverage. If you find the vodka tonic too bland without the herby spices of gin, you can always add a dash of fresh orange juice.
Salty Dog Cocktail
The Salty Dog cocktail is one of our favorites. It's easily one of the most versatile cocktails and pairs exceptionally well with vodka. This variation on the classic Greyhound cocktail uses gin or vodka with fresh grapefruit juice. Whereas gin gives the Salty Dog a more botanical taste, vodka lets you savor the tart flavors of the grapefruit more. It wouldn't be a Salty Dog without a salt-lined rim to bring out the best vodka cocktail's sweet and bitter tastes.
Vodka Cranberry
The best vodka and cranberry juice complement each other perfectly. After a long day, you can turn to a tasty vodka cranberry with only two ingredients. Ordering a vodka cranberry at a restaurant or bar is also often consistent, as long as you're requesting the best vodka brand. The best vodka cranberry cocktail uses 100% cranberry juice and comes topped with a fresh-cut lime wedge. Drop a few circle ice cubes in the glass for a refreshingly classic cocktail.
Moscow Mule
While the Moscow mule has been around since 1941, it was never considered a trending beverage until recently.  Did you know that the Moscow mule was Google's most searched alcoholic beverage in 2017 and 2018? The Moscow mule owes some of its popularity to its ease of pour and refreshing taste. You need only three ingredients to make a quality Moscow mule: vodka, lime juice, and ginger beer. 
The best vodka for a Moscow mule gives off a citrus, smooth flavor profile, like the customer-favorite Liddel Vodka. Of course, Moscow mules also taste great with bourbon.
Bloody Mary
The bloody mary may be one of history's most well-known vodka cocktails. In fact, bloody marys and brunch have become synonymous with one another over the last decade or so. The fresh tomato juice gently awakens you, while the Worcestershire and Tabasco sauces energize you by preparing your taste buds for the day ahead.
A traditional bloody mary also includes lemon juice, which helps balance the spicy sauce flavors, and salt and pepper. Don't forget the vodka, as the best vodka can make or break a bloody mary. The best vodka for a bloody mary is smooth and clean, allowing you to savor its more robust ingredients. Many people also garnish this cocktail with a celery stick to reduce its intensity.
White Russian
Whereas many of the best vodka cocktails are fruitful and tart, the White Russian is the opposite. The White Russian gives off a fulfilling, comforting flavor using vodka, Kahlua, and cream. The thick cream in a White Russian pairs perfectly with the best vodka for a sweet drink that will overcome your dessert cravings. 
The Kahlua also contains around 5 mg of caffeine. Depending on your cocktail size, the White Russian offers a perfect drink for a mid-afternoon or after-dinner energizer. This vibrant, delicious beverage is superb for fall get-togethers or holiday parties.
Cosmopolitan
The cosmopolitan may be your best bet if you prefer vodka cocktails with a strong tart flavor. A traditional cosmopolitan contains vodka, cranberry juice, lemon juice, simple syrup, and Cointreau. A cosmopolitan is also an excellent cocktail choice if you prefer your beverages not to taste too strongly of alcohol, as the juices do a great job of overpowering it. Choosing 100% cranberry juice and the best vodka will give you a refreshing and flavorful cocktail.
Jubilee
Add a dash of red wine to your favorite vodka for a Jubilee cocktail. This delicious cocktail also pairs spiced pear liqueur, lemon juice, maple syrup, and seltzer. Serve the Jubilee at this year's holiday celebrations. You'll create distinctive cocktails that all your guests will talk about for years. The Jubilee cocktail is commonly served around the holidays because the dry red wine and spiced liqueur are perfect for warming up on a cold winter night.
The best vodka makes the best cocktails. This list of delicious, refreshing beverages will take your vodka cocktail drinks to the next level. Your friends will thank you as you expand your knowledge of mixing and pouring the most exceptional vodka drinks.
---